The Ancient Mystic Society Of No Caseys
Wednesday, August 15th, 2007 at 5:01 am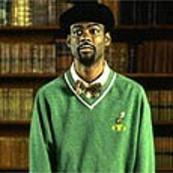 Tiger Tiger Woods y'all hates him some cripples. Either that or he hates golf carts. Either way, Casey Martin's not playing a round at Tiger's new golf course anytime soon.
Tiger is designing his first golf course in the mountains of North Carolina near Asheville. This comes on the heels of the first year of his successful golf tournament the Chocolate City Classic officially known as the AT&T National. The course named The Cliffs of North Carolina will not allow carts "which Woods said was key to the deal".
The 31-year-old said he will gradually grow his design business, selecting projects that fit within his crowded schedule.

But he pledged to come to the site as often as necessary to get the job done right.

"As you know, I'm kind of a perfectionist," Woods said.
Tiger should talk to his boy Michael Jordan about showing up to the job. Maybe he'd keep jobs longer and not draft donkeys like Kwame Brown and Adam Morrison. Then again, Morrison does have a sweet ass molestache.
Filed under: Casey Martin • Chris Rock • First Round Busts • Golf • Michael Jordan • Molestache • No Caseys • Tiger Woods
Like this post? Subscribe to my RSS feed and get loads more!
Possibly related posts