Tuesday, March 8th, 2011 at 8:45 am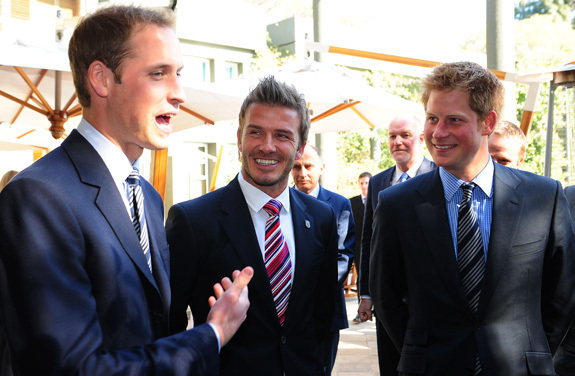 Not only are we going to Cheshire … we're going to Manchester and Madrid and Los Angeles and Milan and South Africa, and we're going back to California and London. And then we're going to Westminster Abbey to take back the Royal Wedding. Yeah!
David Beckham's inaugural game for the LA Galaxy was a garish scene. Cameras flashing. Celebrities milling about the stadium. Little girls screaming. Chelsea fans (including myself) loudly questioning Posh's love of anal and screaming at him every time he came near our section. His scowls warmed our hearts. Goldenballs' American future was so bright. He was single-handedly going to fill the Galaxy's trophy cabinet with silverware as well as boost the profile of the MLS. His wife would become a Hollywood A-lister. Years later, the cabinet has more in common with Arsenal's and his wife is better known for looking like Skeletor than having a successful music or television career. How's the MLS doing? Growing every year no thanks to him. Since he's not needed, he'll be off again.
The Mirror reports that the Galaxy have given Beckham permission to attend the Royal Wedding. It will take place during the regular MLS season and 48 hours before they play FC Dallas (dumbest name in MLS until Real Salt Lake and Sporting Kansas City). He intends to return in time for the game. The reasoning besides his friendship with Prince William? It's an "amazing British royal event". I can just imagine Bruce Arena saying that like Billy Bush then throwing it to some chickenhead entertainment reporter for the whole scoop.
Beckham may have helped the Galaxy sell a few more shirts and tickets but that's about it. It seems as though he spends more time worrying about his non-existent England chances and playing for teams in Europe during the off-season. At least he didn't come back injured from his time with Spurs. He didn't do much for them either except buy them pies and mash on the way out.
The Galaxy were wise not to allow Beckham to play any games for Spurs. He's not getting any younger and playing constantly doesn't do him or the team any favors. His last stint with AC Milan ended up with him being out for months. His first priority should be the team that sorts his direct deposit. If he wants to leave at the end of his deal, that's his prerogative.
No one questions Beckham's work ethic and taking off for a wedding isn't the worst thing ever but there is something to be said for perception. It's understandable why many Galaxy fans are fed up with him. It would behoove him to put his head down and fully commit to the team's cause for a whole season without always thinking about his next move or appearing to put the cause second or third to outside interests.