Steven Seagal is the MMA Yoda part 2
Monday, September 26th, 2011 at 8:00 am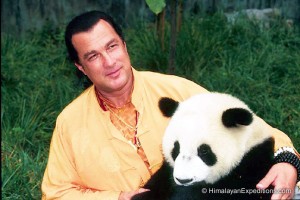 Elderly eskimo-woman and weight watchers fugitive Steven Seagal is an MMA god. Seagal has worked with super-fighter and middleweight champion Anderson Silva, as well as former light heavyweight champion Lyoto Machida in his comeback win over the now-retired Randy Couture. With the exception of most Subway $5 footlongs, anything this guy touches becomes bigger and stronger.
This is in spite of the fact that Seagal's martial arts discipline is Aikido, a defensive martial art, that over time has blended with some judo, that works best against smaller opponents and requires little physical strength to execute. It's mostly redirecting an attacker's energy and not a really aggressive discipline. That is why every Seagal movie shows him snapping people's arms or throwing them into glass windows. Like there were thousands of glass windows aboard that submarine in Under Siege!
As we mentioned earlier, Seagal's been volunteering to do laundry and buy green M&M's for mentor MMA fighters, including UFC-living-legend Anderson Silva. Silva credited Seagal with a bizarre front kick that he used to finish Vitor Belfort at UFC 126. It turns out that Seagal asked Jon Bones Jones' camp if he could address the champ before his fight with Rampage Jackson, no dice, according to Jones.
But Seagal still showed up as a spectator for UFC 135 and even gave an interview afterwards. The whole interview is pretty lame but perhaps worth a listen. Seagal takes the contrarian view that Jones didn't look his best, despite the overwhelming interpretation otherwise, and that this was best he has ever seen Rampage look. Fair enough, I didn't see the fight, but I do know that Rampage has never been known as a ring technician, he's basically a boxer with some wrestling/slams, and Jones' lines up well against that type of fight base.
Seagal also disagrees with Rogan's take that this is the best that Jones has looked but at least Rogan's been at all the fights, and even spars with many of the fighters. What would Rogan know anyway, though. Has he ever killed Screwface, and his twin brother? I don't think so.
This video is worth a second look, like parody porn.
Tagged with: Joe Rogan • Jon Jones • Rampage Jackson • Steven Seagal
Filed under: Uncategorized
Like this post? Subscribe to my RSS feed and get loads more!