Ice-T Should Add Tank Johnson To His Punk B**ches List
Wednesday, July 21st, 2010 at 9:45 am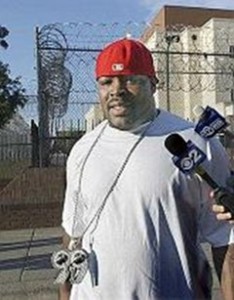 If Ice-T thinks the cop that arrested him yesterday is a punk bitch, who knows what he would call Tank Johnson. Even judges are calling him out for being one in addition to a coward.
Willie Bernard Posey, Johnson's bodyguard and best friend, was shot and killed by Michael Selvie, in Chicago last year. The South Side gang member was sentenced to 55 years in prison last week.
Circuit Court Joseph Claps admonished Posey but unloaded on Johnson who apparently fled the scene when the police showed up and left his friend to die on the floor.
"Mr. Johnson has to live with his behavior that night, his failure to render aid to a person he described as his best friend…his cowardice and his attempts at self-preservation," Claps said.
Johnson told the police he wasn't at the club at the time of the shooting. He later testified that he didn't want the Bears to can him and he was on thin ice with them due to previous legal troubles.
Is Marvin Lewis going to stand up for Tank like he is for Cedric Benson? Who would have thought Jerry Springer would be the classiest person to come out of Cincinnati?
Tagged with: Chicago Bears • Cincinnati Bengals • Crime • football • Ice-T • NFL • Tank Johnson
Filed under: Uncategorized
Like this post? Subscribe to my RSS feed and get loads more!