Epic Meal Time Gives Jeremy Piven His Rapist-berger Or Something Like That
Wednesday, February 2nd, 2011 at 8:30 am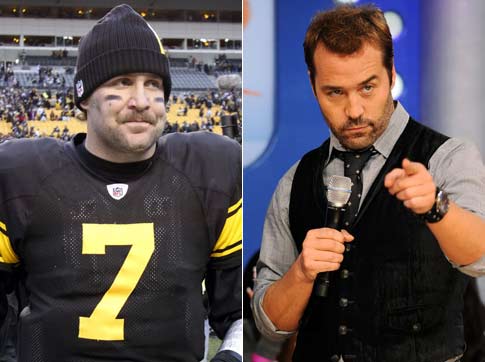 Chicago Bears fan Jeremy Piven wasn't pleased when he was busted making comments about Ben Roethlisberger during Sundance.
Piven was talking sports during some downtime last week at the Sundance Film Festival in Park City, Utah, when he said the Super Bowl, set for Feb. 6, would have been a better with the New York Jets and his hometown favorites, the Chicago Bears on the field.

"Now its Rapist-berger and the cheese heads," Piven said, referring to Sunday's Steelers-Packers matchup.

"The cheesy rape burger," he then riffed, drawing chuckles from another man in the room.
Piven lamented being caught on camera but he should be happy that TMZ was there for a change. Someone heard what he was trying to say. He needed a burger good enough for Ben Roethlisberger. He needed one sloppy like Big Ben's game with college girls and with enough cheese to back him up in case of another sushi attack. The guys from Epic Meal Time heard his cry and came up with the Sloppy Roethlisberger.
20 pounds of beef. 20 pounds of bacon, pork slab, cheddar cheese, BBQ sauce and a bun that would even impress Black Rebel Motorcycle Club. Have a little Four Loko Chili on the side along with Four Loko in a cup made of bacon. Don't you want to taste "crazy alcohol rainbow pig"? Super Bowl party. Super Bowl angioplasty. Same thing.
Would a Molesty-berger be a normal sized version of the Sloppy Roethlisberger? Big Ben would probably throw down on both of them when he's not busy finding his religion. That's him in the corner…with your little sister.
Tagged with: Ben Roethlisberger • Epic Meal Time • green bay packers • Jeremy Piven • Pittsburgh Steelers • Super Bowl • TMZ
Filed under: Uncategorized
Like this post? Subscribe to my RSS feed and get loads more!