Monday, February 21st, 2011 at 11:40 pm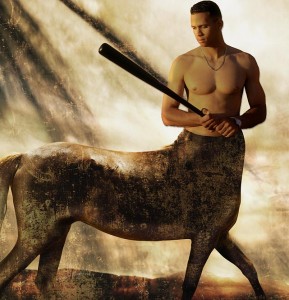 For baseball fans, like Duke Jackson, spring training is an exciting time for baseball junkies to examine their team and predict their fortunes for the coming season. For the "Worldwide Leader in Sports," it's a time for round-the-clock Yankees and Red Sox coverage, squeezing every ounce of news value out of predictable, innocuous, and even, laughable concepts. Thus, in addition to hearing about how Derek Jeter's ego is bruised for getting $51 million last offseason to keep turning in declining production, we are also treated to the annual pastime of examining Alex Rodriguez' personality veneer.
Oh, but, dear reader, you are in for a treat this season! Alex Rodriguez, 35, is ready to unleash his true personality upon the baseball world. Why, he's relaxed, he's funny, he's engaging, and…he's basically a Dominican Tom Cruise. Oh, and he's not at all upset about the Super Bowl image of him and his brother eating at the Super Bowl.
Feed me popcorn while I watch the show, ESPN:
Rodriguez made light of his Super Bowl appearance in which he was shown on TV being fed popcorn by his girlfriend, actress Cameron Diaz. Rodriguez said that a report that he went "ballistic" at Fox for showing him was false.

"That was pretty humorous," Rodriguez said. "Absolutely not, but five or six years ago I probably would have come out with some bogus statement."
This confirms it. Rodriguez has definitely changed. Of course, in an industry of increasingly image-conscious media personalities, Rodriguez is king. This guy will do absolutely anything to steer the perception people have of him. He's basically the Wizard of Oz in pinstripes.