Saturday, September 4th, 2010 at 7:21 pm
Who's the next England player to be busted cheating on his wife with prostitutes? Wayne Rooney, come on down! He may not be scoring on the pitch but he sure knows how to put it in when it comes to the hoes.
Rooney was busted for cheating on his wife Colleen with Jennifer Thompson, a £1,000-a-night prostitute, while she was pregnant with their son. He slept with Thompson on several occasions over four months.
You might remember Rooney from previous hooker episodes such as Over 50 Whores. He apologized to his wife back then but was forced to come clean this weekend.
Rooney now expects betrayed Coleen to throw him out of their £5million mansion in Cheshire and begin moves for an explosive divorce. He told a pal yesterday: "My life is in ruins…I've been so stupid. Coleen won't forgive me this time. She will leave me."
No one has ever accused the striker of being intelligent. They not only stayed in the same hotel every time they hooked up but he also took her out on dates to various Manchester bars and clubs.
Of course, Thompson had no problem selling her story to the Mirror. Some of the details were mundane and what you would expect. However there were some interesting tidbits. He sent her loads of text messages as one would expect. However he also talked to her on Skype under a false name. What? Here's FourFourTwo's James Maw's reaction via Twitter: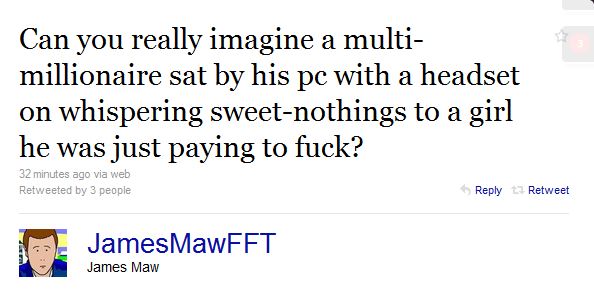 If that's not enough to make this suspect, Thompson is only 21. That's way too young for Rooney. Then again, we could be wrong. He may take them 8 to 80, dumb, crippled and crazy.
Regardless, Rooney knows Colleen's going to come around saying, "Wayne, I want half!" Endorsements? Ask Tiger Woods how those are going for him right now.
To be a fly on the wall during Alex Ferguson's next face to face conversation with Rooney. He'll pray for the hair dryer treatment.