Samuel Eto'o Goes Full Zidane On Bostjan Cesar
Monday, November 22nd, 2010 at 12:37 pm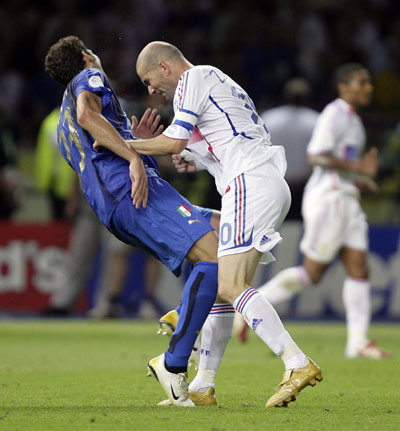 Cristiano Ronaldo is missing his calling. He's wasting his diving talents in La Liga. He needs to be in Italy where diving is considered an art form. Take Bostjan Cesar for example.
The Chievo defender tackled Inter's Samuelo Eto'o from behind during yesterday's match. A free kick was given but that wasn't enough for Eto'o. Check out his reaction after play resumed.
Cesar made the most of the headbutt as it didn't look nearly as hard as Zidane's. However Eto'o can bet on a three-game suspension at the least for his actions.
Tagged with: Bostjan Cesar • Chievo • Headbutt • Inter Milan • Italy • Samuel Eto'o • Serie A • Soccer • Zinedine Zidane
Filed under: Uncategorized
Like this post? Subscribe to my RSS feed and get loads more!
Possibly related posts