Michael Vick's Dogs Profit From Puppy Torture
Friday, November 14th, 2008 at 7:40 am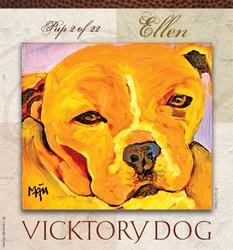 It's never pleasant whenever victims of heinous crimes decide to profit off their pain to increase their 15 minutes of fame. Most end up on daytime talk shows or Nancy Grace. Others appear on wine bottles. Just look at the former residents of Michael Vick's Bad Newz Kennels.
Dogs rescued from the evil grasp of Michael Vick are appearing on wine bottles of the Vicktory Dogs Wine Collection.

Each bottle includes a portrait of one of the dogs on the label. On the back, instead of a description of the wine, there's a brief story about each four-legged friend.

… Artist Cyrus Mejia, one of the founders of Best Friends, began painting the dogs after they arrived at the sanctuary. Gone in the portraits are any signs of snarling beasts fit for a fight ring. Instead, there are cocked heads, soulful eyes and floppy ears.

"I think he's been able to capture the real personalities of each of the dogs," said John Polis, a Best Friends [Animal Sanctuary] spokesman.
There's a whole lot of talk about mental rehabilitation of the dogs but what good does it do to encourage unstable killing machines to start drinking? Let's see those winning personalities after one or two bowls of wine. No good will come of this. You have been warned.
10% of each sale goes to the animal sanctuary. Matt Hahn of Carnivitas Winery which produces the wine said the goal was "to show the dogs in a positive light" and hopes it encourages people to talk about dogs and protecting animals. It's more likely that they'll look for more sauce or get it on doggy style after one or two bottles of the stuff.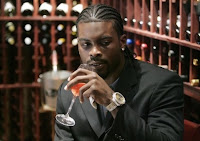 There's no word on whether the wines will be sold at The Tasting Room. Shouldn't these dogs be grateful to Vick in some way? They would be nowhere without him. Just some no name dogs attacking small children, the elderly and mail carriers in somewhere in southern VA. It could have been worse. They could have belonged to Marcus Vick.
What? Now I'm the asshole? You're probably right.
Filed under: Big Ben Says Drink Like A Champion • Crime • Michael Vick • Where My Dogs At
Like this post? Subscribe to my RSS feed and get loads more!
Possibly related posts