Former Vikings Players Don't Want To Hear The Vikings Bitch About Where They Play
Monday, December 20th, 2010 at 9:00 am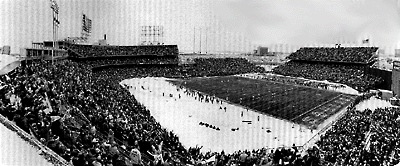 First they don't want to play outside because the ground's too hard. Now they don't want to play inside because their dome can't keep it up. People, including former players, are getting tired of the Vikings complain about their situation.
Vikings players expressed concerns about the University of Minnesota's stadium playing surface through Twitter. They took pictures and hoped there aren't any catastrophic injuries during their game against the Bears. Other players have commented to local and national media about the same concerns. Team management decided to get on the bandwagon and express concerns about playing in the Metrodome next year.
"This is Minnesota. It snows. We're a hearty bunch. We deal with it. Some people would say, 'Well, a couple of shingles come off the roof, you don't build a new barn.' Well, the roof collapsed (at the Metrodome). We have concerns about the safety of the facility going forward. We'll deal with that after the game, as well as we'll deal with the financial and economic impacts of what happened."

Asked if he was intimating a scenario that would keep the Vikings from playing at the Metrodome in 2011, Bagley said, "No, I'm saying we have concerns about the safety and viability of that structure going forward. We'll deal with that in the near future."
A "hearty bunch" that plays in a heated dome. Green Bay, Chicago and New England have no problem playing in the elements. Real football fans don't want to hear complaints about the cold and snow. They're not the only ones. Former Vikings who played outdoors at Metropolitan Stadium don't want to hear it either.
"You've got to learn to tough it up," said former running back Chuck Foreman, who played for the Vikings from 1973-79. "That field will be perfect to play on. That's the way the game has been played for years. These guys get spoiled. Go out there, embrace the weather, enjoy it. Just keep yourself warm. It's all mental."

…[Vikings coach Leslie] Frazier, who played through plenty of blustery outdoor games at Soldier Field as a Bear from 1981-86, said the field will be safe and that players shouldn't be concerned.

"I think our players will embrace (outdoor tradition) as the game goes on," Frazier said. "They'll be into it."

Back in the Bud Grant era, players weren't allowed to wear gloves or hover around heating systems on the sideline.

All they got was a cape to go over their shoulders, and even those didn't work, former Vikings wide receiver Ahmad Rashad said.

According to him, the Vikings of the late '70s never became consumed with the cold.

"If you get caught up in how cold it is or the field's too hard or you can't get your cleats in the field, you've got no shot," Rashad said. "It's the same for both teams; you just have to go out there and execute."

Facilities might be "perfect" for today's athlete, Rashad said, but a frozen field can actually lessen the impact of violent hits.

"It's hard to get hurt because it's harder for people to get leverage on a hard surface," he said. "It's tougher on Astroturf when you can get all that torque. There's no torque on a frozen field."
In other words, man up and play ball. Maybe the grounds crew can pour lava on the field at random times to heat things up and keep things interesting. Lava or flaming cauldrons of oil. I'm not picky.
Tagged with: Bitch And Moan • Metrodome • Minnesota Vikings • NFL
Filed under: Uncategorized
Like this post? Subscribe to my RSS feed and get loads more!
Possibly related posts