USA Beats Algeria, Break Out The High-Five World Cup
Thursday, June 24th, 2010 at 2:52 am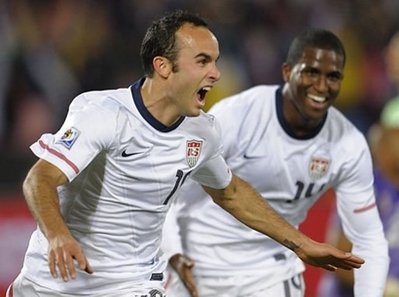 Even the good people of Funny of Die are excited about the World Cup. Why shouldn't they be, with USA beating Algeria and advancing to the 2nd round where they face Ghana on Saturday, everyone should be excited. If you missed the lone goal of the game, watch it here while its still up. So, in honor of the World Cup and in support of the 1Goal foundation, check out the latest in the High-Five series, World Cup style. Look closely and you might see Landon Donovan and Tim Howard in there.
Tagged with: Algeria • Funny or Die • Ghana • USA • USA Soccer • World Cup
Filed under: Uncategorized
Like this post? Subscribe to my RSS feed and get loads more!