Wednesday, November 17th, 2010 at 12:46 pm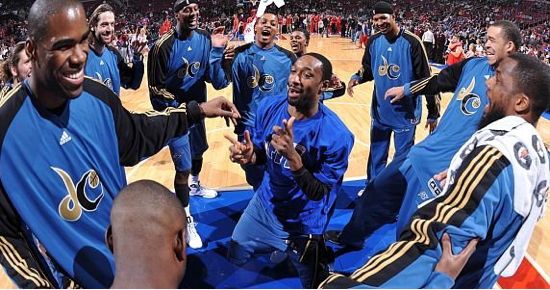 Buck buck muthafuckas! Guess who's back after last night? Gilbert Arenas. This time without the guns. Too bad the same can't be said for Ajax's Rene Kofi Osei.
Osei is picking up where Hibachi left off. The Ghanaian midfielder, on loan at Dutch second division Almere City, had his contract terminated by Ajax after he pulled a gun on a teammate and threatened to kill him.
The 18-year-old midfielder, who is on loan at second tier Dutch club Almere City, put the gun to the head of Christian Ghandu and threatened to blow his head off in a furious tirade.

Terrified team-mates quietly intervened before the sweating Ghandu was set free from the imminent danger.

The two players had been involved in verbal exchanges after a training ground row which resulted in another bust-up at the club's car park.

Osei Kofi returned from his car with a gun and pointed it to the head of his team-mate Ghandu.
Well Osei can soon expect meetings with Roger Goodell and David Stern followed by NFL and NBA suspensions of indeterminate lengths.
All isn't lost for Osei. He's young. There's still time to save his career. Newcastle would be more than happy to sign him. They're quickly becoming the Bengals of the Premier League. He would link up with Joey Barton and Andy Carroll rather well. I mean that in a criminal, not footballing way.