"Ain't That TUF Enough"
Tuesday, June 22nd, 2010 at 10:48 am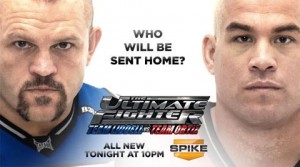 Let's face it: Mixed Martial Arts (MMA) is no longer a niche sport.  Head to any sports bar on a fight night and you'll see hordes of men and women crowded around televisions watching tatted-up behemoths grapple with each other.  The combat is brutal, just like UFC founder Dana White.  Through a series of shrewd business moves and a ruthless marketing campaign, he's methodically crushing the remnants of boxing. 
Back by popular demand, we asked guest writer and MMA die-hard Turd Ferguson (seriously, what is up with poop-related things and this website?) to give us his expert summation of Saturday's "The Ultimate Fighter" finale.  His recap is below: 
Saturday night I took a break from my routine of cruising around the seedy underbelly of Washington, D.C. in a limo searching for hookers to chase after naked with a chainsaw so I could plop myself on the couch to observe the first free beating I have seen since the last time I ventured out in Adam's Morgan past last call. 
It's bittersweet to see the growth of UFC the past couple years.  DirecTV, Bud Light, and Burger King logos adorned the Octagon, making me pine for the good ole' days when Mickey's Malt Liquor and "Chico's Bail Bonds" were the primary sponsors. 
"Butterman, toss me a brewsky and let's clean some pools!"     
The night's main event was the finale for the awesome The Ultimate Fighter 11 (TUF), featuring Court McGee and Kris "BoxCar" McCray – light heavyweights who were featured on this season's TUF.  Editor's note: McCray fought five times during the show's run and didn't once ask for bus fare or half a cheese sandwich for his work. 
Fight fans will recall that the "real" main event for TUF 11 was a week prior, where Rich "Ace" Franklin put away Chuck "The Iceman" Liddell despite suffering a broken arm.  Franklin was a last-minute replacement for Tito Ortiz, who pulled out of the fight due to vaginitis recent back surgery.  I have more respect for Liddell than most MMA fighters, even if he did make this naked workout video.  Moving on:       
Matt Hamill vs. Keith Jardine
In other action, Matt "What did you just say?" Hamill, the only deaf fighter in UFC, couldn't hear the haters as he put Keith Jardine down, which would be impressive if it wasn't fast becoming a frequent event.  Hamill apparently overcame a staph infection for the fight, and broke his hand during the contest, too.  Jardine won the first round, but Hamill caught a break when Jardine got a point deducted for an eye poke.  Jardine's dropped four straight, this one by decision.  Is he still training with Rashad Evans?  Cuz it's not working, like my supply of Extenze.  YOU LIED TO ME, JIMMY JOHNSON! (fires revolver at television set, passes out)      
Rich Attonito vs. Jamie Yager
Rich Attonito, who won a preliminary bout but broke his hand during TUF, went up against Jamie Yager, who resembles a well-muscled troll.  Yager infuriated the other fighters in the house this season with his pranks and actually crapped out in the competition after refusing to fight a third round.  Still, he's a great athlete, with a mug that looks a lot like "Gwildor" from Masters of the Universe, so you can see how I was torn.  Yager's got some fast hands and feet, only matched by his mouth, and landed some good strikes early, but Attonito took him to the ground in the second, utilizing his wrestling, dug in his legs, and beat on Yager's head until the ref stepped in to stop the fight.  Yager was gracious in defeat though, probably because he knows that he needs all the friends he can get just walking to his car after the fight. 
Court McGee vs. Kris McCray
In an interesting development, both TUF finalists actually lost preliminary fights before beginning their ascent.  McGee lost by decision to Nick Ring but he was brought back as part of the wild card fight by Dana White, and it looks like that decision was a good one, like when you aren't too drunk to throw back the female sea urchin you've been talking to all night.  McCray, on the other hand, avenged his loss to Josh Bryant on the show and seemed to get stronger each week.    
Two great stories here, especially McGee, who overcame a serious drug and alcohol addiction (You can die from that stuff!?).   McGee kept McCray off his game with take-downs and control on the ground before making McCray tap out to a rear naked choke late in the second round for the six-figure contract.  Eye witnesses said they saw McGee trying to cash his giant check outside of a liquor store in Las Vegas.      
James Hammortree vs. Chris Camozzi
I never understood why Tito Ortiz had such a man-crush on Hammortree, all this guy did in the show was lose.  And somehow he gets on the finale?  So what happened, you ask?  TAKE ONE GUESS (channeling Nicholas Cage, Face/Off).  Camozzi by decision.
Dennis Siver vs. Spencer Fisher
These two lightweights stood and exchanged in front of the ugliest woman referee I have ever seen in my life.  Still, there was good, heavy strikes from both fighters before Siver won via decision.  Siver got a cut over his eye that stopped bleeding fast, leading me to believe that he may be a part of a secretive government program to design indestructible soldiers and put them against Jean Claude Van Damme.  But maybe that was just the beer talking…   
Special thanks to T.F. for another excellent rundown.  He promises a complete Lesnar/Carwin recap if we can bail him out of jail in time to watch it.
Tagged with: Al Bundy reference • Gwildor • Nic Cage • TUF • Turd Ferguson • UFC • Vaginitis
Filed under: Uncategorized
Like this post? Subscribe to my RSS feed and get loads more!