The World Cup Brings Out The Best In Families
Tuesday, June 29th, 2010 at 1:57 am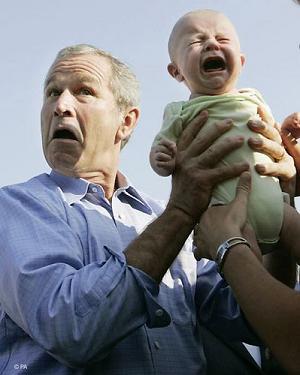 Researchers note that domestic violence rates in Wisconsin always rise after a Green Bay Packers loss. Of course, the World Cup has to do everything bigger and better. You try to watch the World Cup over a religious program? That's a killin'. Cry over the US-Ghana match while people are trying to watch. That's unpatriotic. Oh that's a killin' too.
Hector Castro of McAllen, TX will be (or already has been) charged with murder in the death of his 2 year old stepdaughter. The reason? She wouldn't stop crying during the US-Ghana game. I was yelling during the match but that's going a bit too far. The details of the crime are brutal to say the least.
Police Chief Victor Rodriguez says Castro told investigators that the toddler wouldn't stop crying while he was trying to watch the U.S.-Ghana matchup on Saturday.

Rodriguez says the child was severely beaten and suffered several broken ribs. Police said a screw or bolt was forced down her throat in an apparent attempt to make it look like she chocked to death.
Congratulations, America. You know soccer has made it here when we start killing each other over it.
A special shout-out to Landon Donovan for helping make the game what it is today by knocking up a groupie. Well played!
Enjoy Portugal-Spain today and remember to shut up while I'm watching the game. I'm not sayin'. I'm just sayin'.
Tagged with: Crime • Domestic Violence • Soccer • Texas • World Cup
Filed under: Uncategorized
Like this post? Subscribe to my RSS feed and get loads more!