Kendry Morales Is Not Smooth Like Butter
Sunday, May 30th, 2010 at 10:20 am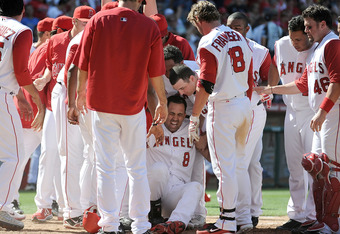 It's not often that baseball players are compared to football players. Usually it's a sign of respect for strength, speed or agility. This is not one of those comparisons.
Kendry Morales hit a walk-off grand slam in the 10th inning to help the Angels beat the Mariners yesterday. Ooh that's good. He quickly rounded the bases and decided to channel Bill Gramatica at home plate. Ooh that's bad.
Morales ended up with a broken leg. He had to be fitted with an aircast and carted off the field. Dave McGinnis is still not amused.
For your Memorial Day weekend listening pleasure: Butter
Tagged with: A Tribe Called Quest • Bill Gramatica • Butter • Kendry Morales • Los Angeles Angels of Anaheim • MLB • Sports Injuries
Filed under: Uncategorized
Like this post? Subscribe to my RSS feed and get loads more!