Noel Gallagher Actually Doesn't Wax Idiotic About Manchester City
Thursday, July 23rd, 2009 at 5:15 am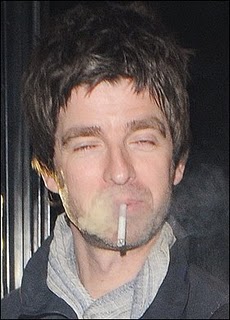 Noel Gallagher of Oasis has some interesting things to say about his favorite soccer team. Man City's number one fan** sat down with Football365 and discussed the state of the team. Topics included their newly found riches and the prospects for the upcoming Premier League season. Here are some highlights:
On wishing for the "good old days":


No. I'm absolutely loving it, and if you ask 99.9% of City fans they would say the same. I'm sick of supporting loveable, affable City - fuck that, we want the best players in the world, playing the best football in the world in the best stadium in the world, owned by the richest people in the world.
On being worried about high player wages:


If the club was a PLC and it was my money being spent on wages then yes, I'd be mighty pissed off. But it's not my money, it's not your money, and what right has anyone to tell anyone what to spend their money on? As City fans we're absolutely fucking loving it.
On Citeh's prospects for the upcoming season:


I think with no European commitments we can go all out in the Premier League. I don't think we can challenge for the title but I expect us to finish between fourth and sixth. I think if Mark Hughes can't pull this off, then he's only got himself to blame.
Many of Gallagher's views echo the sentiments of Chelsea supporters (myself included) when Roman Abramovich bought the club and saved it from likely bankruptcy. He makes a point that Chelsea fans have made when challenged on becoming a "big club".


There's a funny English attitude where almost overnight, attitudes change. I've lived in London for 15 years and every time I got in a black cab they've said, "Oh you're a City fan, we love City," and now they all think we're arrogant with ideas above our station. It's a funny English attitude towards success and money.
People hate it when anyone new comes in and threatens to upset the old order namely being Manchester United, Liverpool and Arsenal. Man City are no different than Chelsea in that sense. Gallagher should also note the drawbacks to wealthy owners who often see their teams as fantasy teams and stop listening to sensible advice. Maybe he'll come back to earth when he sees that money doesn't solve everything in football. Money is to football as alcohol is to life. It's the cause of and solution to all problems.
Gallagher didn't manage to keep it together for the whole interview. He claims that no player will ever match Stephen "Fucking Brilliant" Ireland. Keep in mind this is the same Stephen Ireland who bailed on Ireland by falsely claiming that his grandmother died. Let's not even talk about Man City and Real Madrid being the two most exciting teams in the world. The thought of putting Barry, Tevez, Adebayor and Santa Cruz up against Real's new signings or Barcelona among others is absurd.
**We have to think Ricky Hatton's been demoted behind Noel and Liam Gallagher after getting whupped by the Mexicutioner.
Filed under: I'll Get You Beer Baron • Manchester City • Manny Pacquiao • Noel Gallagher • Oasis • Real Madrid • Soccer
Like this post? Subscribe to my RSS feed and get loads more!
Possibly related posts