Let's All Laugh At Manchester City
Tuesday, January 20th, 2009 at 6:37 am

Let's see if Noel Gallagher is laughing now. Citeh's attempt to out-Chelsea Chelsea just ran into a wall. The newly rich club has been attempting to feel the fiber of Kaka's (AC Milan/Brazil) fabric to the tune of £100million. The whole thing just blew up after his negotiating team got pissed at Man City's tactics.
The Kaka to Man City rumors have been flying around ever since the team was bought by Sheikh Mansour bin Zayed Al Nahyan of Dubai. Money is no limit and the new owners want to show that by making Kaka the centerpiece of their new team which they hope will challenge the Big 4 for domestic and international supremacy. Too bad Kaka wants no part of it.
The Daily Mail reports that Kaka (who might love Jesus more than Kurt Warner) turned down a reported offer of £500,000 per week to stay with AC Milan.

'All the messages coming my way said to choose with my heart and at the end that's what the choice was. It was absolutely not about economics. At the end what counted was my history, where my ties are and where my heart really lies.'
Milan owner (and Italian Prime Minister) Silvio Berlusconi expressed relief at Kaka's decision. That surely has nothing to do with the fact that the fans were losing their minds and holding candlelight vigils in front of the striker's house pleading for him to stay. Berlusconi may have taken flak from the fans but £100 million goes a long way towards buying several players under 40 or paying off judges to give you immunity from prosecution.
Citeh has egg on its face and to make things worse, fellow Brazilian Robinho has gone AWOL. He was already demanding that the team get Kaka or he would leave. He had another bust-up with manager Mark Hughes and now the team can't locate him. Chelsea manager Phil Scolari has the hots for him (but not in a Wenger kind of way). He was furious when Chelsea missed out on him last August and he still would love to add him to the squad especially in light of the team's recent form.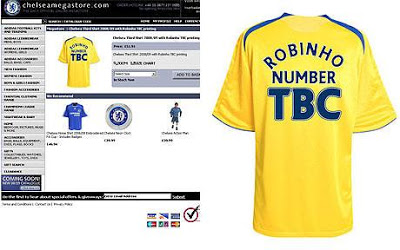 If Chelsea somehow manage to pry Robinho away from Citeh, I will be first in line to get the Robinho Number TBC jersey. It's either that or an Abramovich jersey with a pound sign under the name. Straight cash homey.
Robinho shouldn't get too upset. He may have signed for the wrong Manchester team by accident but they are making moves in spite of Kakagate. All-purpose asshole Craig Bellamy was just purchased for £14million from West Ham. Manager Gianfranco Zola is laughing all the way to the bank along with the rest of England. Who knows if the deal is truly dead but this debacle can't make Citeh owners happy.
Filed under: AC Milan • Chelsea • Kaka • Manchester City • Oasis • Robinho • Silvio Berlusconi • Soccer
Like this post? Subscribe to my RSS feed and get loads more!
Possibly related posts