Pacman Jones Surprised That Sun Rises In The Morning
Thursday, January 8th, 2009 at 12:32 pm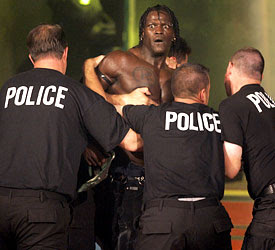 Some things are guaranteed to surprise you. Find a horse head in your bed. Surprise. Shane killing Lem. Fucked up. Being cut by your team after they find out you've been involved in another shooting incident after being suspended once this season. Not so much.
The Cowboys surprisingly did the smart thing and cut Pacman Jones yesterday. There was a small matter of a 2007 incident where he arranged to have three men shot outside of an Atlanta strip club AFTER he was already suspended for a year by NFL Commissioner Roger Goodell.

The June 2007 shooting occurred outside a suburban Atlanta strip club. One of the shooting victims told "Outside the Lines" that he had a dispute with Jones inside the strip club and that not long after he and the two others left the club, a hail of bullets struck their car. The NFL knew about that incident, but charges were never brought against anyone because the victims did not see the shooter.
The news spurred the team to cut Pacman after just one season with the organization. There are also reports that were investigated by the Cowboys that Pacman was partying up in the club the night after their loss to the Ravens and New Years Eve in a Miami bar.
Pacman is suprised and "hurt" that he was cut by the Cowboys who stood by him this season after making owner Jerry Jones and the organization look like fools.


"Surprised? Yeah, I was surprised," said Jones, reached at his Prosper home. "All I can do is keep working hard, keep my nose clean and hope for the best."
It's possible that he could receive a lifetime ban from the league following news of this incident that occurred during his suspension. However it seems odd that he would receive the NFL death penalty for an incident that was already known to the league before he was reinstated.
In his downtime, he can try to sue ESPN as he threatened to do when asked about the report. At least he's staying positive.


"If I beat myself up, who will take care of me?" Jones said. "Football means a lot to me, but it's not everything. It's not like I'm taking it pretty good. I love me some me."
You know who also loves him some him? T.O. Someone needs to give these guys a sitcom or reality show immediately.
Maybe Lawrence Phillips can give Pacman a CFL recommendation. Rumor has it Calgary is great in February. He'll also get much love up in the Calgary clubs with their No Coloreds policies.

Filed under: Crime • Dallas Cowboys • NFL • Pacman Jones • Stupid is as stupid does • Suspension
Like this post? Subscribe to my RSS feed and get loads more!
Possibly related posts