Rumble In The Jungle 2: Electric Boogaloo
Monday, October 15th, 2007 at 5:34 am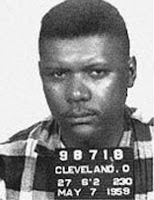 Leave it to Don King to take a good idea and ruin it. King wants to have another Rumble in the Jungle somewhere in Africa.

"Without a question of a doubt I have to go back to the motherland," the US boxing promoter told the BBC.
It's not like Africa has enough problems. First the European plunders the continent and now it's the Chinese and Don King.
The fight should take place in Congo again. You know how they do in the DRC.
It's rumored that Sudan, Zimbabwe and Eritrea are interested in hosting the fight that no one will watch. People might show up if they hear two heavyweight tomato cans are fighting but they'll be disappointed when they find out there aren't any tomatoes.
That's right. I went there.
Filed under: Africa • Boxing • Don King • Rumble in the Jungle • The Crime Dog
Like this post? Subscribe to my RSS feed and get loads more!
Possibly related posts