Adrian Gonzalez: Unplugged and Without an Entourage!
Thursday, February 10th, 2011 at 9:36 am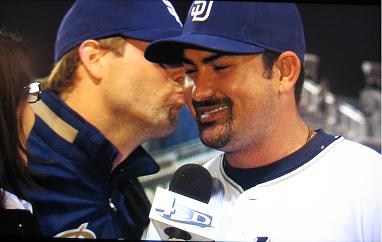 As the clock ticked down and a green and yellow bow was half-hazardly tied on an otherwise mediocre NFL season, one would think those harbingers of America's past time would begin deploying bombastic tomes about "hope springing eternally" in places like Sarasota, Florida.  Then you get dreck like this, and you suddenly miss the 16-hour football orgy Chris Berman hosts every Sunday (Sidenote: had the chance to contribute some content for that Tony Romo interview.  Let me just say this, Mustafa Redonkulous [if that is your real name]: I give you the word association game and you can't even ask him for Jessica Simpson's number or at least a BBM pin?  Instead you just gloss over it!  That wasn't part of the deal, Redonkulous!  That wasn't part of the deal!).
While the NFL tries to figure out whether or not it wants to let the rest of pro sports catch up to it in popularity, let's talk about the most boring guy to ever (maybe!) sign a $180M contract:
FORT MYERS, Fla. — No entourage, no handlers, no posse, no agent, no go-fers, no welcoming committee.

For his first day in Red Sox camp, more than a week ahead of when he was due to report with the other Sox players, Adrian Gonzalez arrived Wednesday morning, unplugged.
Well, it is February 8th in Fort Myers, Florida.  Not a lot of action going on down there except the recent Homeowners' Association elections at neighboring Del Boca Vista.  Dude, it's a training complex located in a sleepy Florida town.  Not exactly a Thursday night at Mansion in South Beach.
"Very, very easy," traveling secretary Jack McCormick said of Gonzalez's arrival. "No one was out there greeting him. He just walked in, like anyone."
"He just walked to the door and turned the knob all by himself.  It's almost like he had done this before!  Usually, I have to lay down and let Jason Varitek walk across my back all the way to his locker… in his spikes!"  It's obvious this George Costanza wannabe is not easily impressed!
No one expected any different.

"Word travels fast about a guy," one Red Sox official said.
Like at the speed of light?  Because Costanza said he just got here!
The night before, Brett Bodine, Boston's coordinator of Florida business operations, met Gonzalez and his wife, Betty, at the airport and took them to their spring-training residence. McCormick supervised the unloading of Gonzalez's car, which had been shipped out from San Diego.
Does Brett Bodine count as a welcoming committee?  Because Adrian Gonzalez doesn't need one!  If this article tells us anything, it's the following:
1. The ESPN (insert city here) experiment has failed miserably.  Between Gordon Edes, Andrew Marchand, and a host of others, it is the prime example of why many beat writers are out of work.  Have a news story?  Great.  Inject some unfounded conjecture that supports your hidden agenda anddddddd… POST!  In other words: the reporters are terrible!
2. The life of a professional athlete is profoundly easy.  Someone needs to supervise the unloading of his car?  Seriously?  Can you imagine if Gonzalez had to reschedule his own flight at a crowded airport kiosk?  I tried to do this the other day and almost had an aneurysm.
About an hour and a half later, Gonzalez emerged from the clubhouse, where he had been working out, and strolled over to the field where several players were taking batting practice.

"Hi, I'm Adrian," he said, extending his hand to outfielders Ryan Kalish and Daniel Nava.
"Hi guys I've never heard of before.  Did you guys forget to bring your entourages, too?  What are you doing later?  My wife and I could use someone to unpack our suitcases and fold our clothes."
He walked over to another field, where players were running with parachute-type devices strapped to their backs for resistance, and joked about his lack of speed. But soon enough, there he was, doing agility drills and, yes, running like a paratrooper.
Before I fall asleep with visions of Red Sox dancing in my head, how exactly do paratroopers run?  Wouldn't a paratrooper detach his parachute once he landed?  Why would they run with a gigantic piece of rip-stop nylon slowing them down?  This makes no sense.  Oh, sorry, forgot what I was reading.
A couple of hours later, after disappearing into the clubhouse to exercise his legs and receive a massage, Gonzalez came out to oblige the reporters waiting for him. He was all dark eyes and thick, black eyebrows, a full mustache and a few days' growth on his chin. His answers were direct and concise.
Ooooohhhhhhh… ethnic and swarthy!  Good to know.  That'll play well in the ethnic melting pot known as Boston, hey Gordo?  While Gordon was busy trying to find ways to best describe a TSA guard at Logan Airport's worst nightmare, he managed to bury the best part of the story: Gonzalez has yet to pick up a baseball bat this winter due to his injured shoulder.  Oh, and he still hasn't signed that $180M+ contract he demanded before last summer's trade.
On the injury:
"I can't give you a day," he said. "All I can tell you is I'll be ready for Opening Day."
"When will I be able to hit?  Who knows?  Not a big deal.  I'm only expected to bat cleanup for a World Series contender."  On the contract extension he has yet to sign:
"We don't have any deadlines, anything like that," he said. "When I'm healthy and they see I'm healthy and we all decide it's time to sit down and talk about something like that, we'll do that. There's no rush for anything. I think the main thing for me is to get healthy."
Oh, but why bother with those little details when we can talk about whether or not he's a good guy?
"Outside the parking lot, a few fans waited patiently. Gonzalez had told them he'd sign some autographs when he was done.

"Seems like a good guy," one fan said to a departing reporter. "Is he?"

He would know soon enough. Word travels fast about a guy.
"He's a slugger who can't pick up the bat, but he's super nice!  Just ask Ryan Kalish and Daniel Nava!"  Who?  Exactly.
I love baseball more than just about anything, but I'm missing the NFL already.
Tagged with: Adrian Gonzalez • Boston Red Sox • ESPN • FJM style • Gordon Edes • Terrible Spring Training Stories
Filed under: Uncategorized
Like this post? Subscribe to my RSS feed and get loads more!