The Anti-Jeters: The Least Marketable Players in MLB
Wednesday, July 21st, 2010 at 11:45 am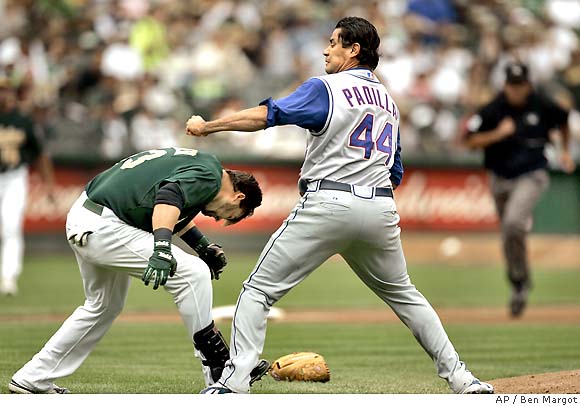 I'm pretty skeptical of surveys — after reading through the fine print in most of them you come to realize one of two things: 1) the questions were created in a way to create a predetermined result; or, 2) most of the people in this country were raised similarly to wolf-boys Romulus and Remus.  Think I'm exaggerating?  Well, where else can an accused rapist (and philanderer) overtake a sex addict (and philanderer) as the most beloved athlete in sports?
Anyways, the other day, Street Smith's Sports Business Daily released its "Most Marketable in the MLB" survey.  Not shockingly, Yankee shortstop Derek Jeter ranked #1, appearing on 47 of the 49 ballots.  This is the third time since 2003 Jeter has topped the list.  In other words: yawn.
Wouldn't it be pretty great if Street Smith's actually released a "least marketable" list?  A few seasons ago, this list would have been too easy to make — with guys like John Rocker and Carl Everett still pulling on jerseys, the list writes itself. Instead, it's left to me.  The criteria: I can't think of one thing these guys could legitimately advertise that would make people want to buy the product… even if they were cool enough to parody themselves (not likely).  Here we go:
Milton Bradley: I've heard all the stories about how Milton is misunderstood.  And yes, the story of his upbringing is horrendous.  While there is no doubt he is an incredibly talented player, his personality makes it tough for people to get attached to him.  With over eleven seasons in the big leagues, he's already on his eighth team.  When he's not confronting umpires, he's been known to go after writers and fans.  Oh, and he's admitted he suffers from mental problems. At least he puts himself out there…
Julio Lugo: Lugo has carved out a decent career for himself earning close to $50M while playing parts of eleven seasons with six teams.  Pretty non-descript and boring, save for the wife-beating.  Real gentleman.  Huzzah to the
Boston Red Sox, who gave the shortstop with the career .723 OPS 40 of that 50 million.  So, overpaid, under-performing, and a batterer: three keys to endorsement success.
Carl Pavano: Baseball's "American Idle" signed a four year, $40M deal with the Yankees in 2004.  His output those four seasons: a record of 9-7.  In 2006, he wrecked his Corvette and broke two ribs while rehabbing another injury.  Which one?  I can't remember.  Take your pick: the "Idle" was sidelined with shoulder, back, buttocks and elbow injuries throughout his time in New York… or should I say Tampa, where he spent most of  his four year deal doing rehab.  While it is never fair to blame a guy for injuries, he somehow recovered well enough to pitch 200 innings last year and is on pace to do the same in 2010.  Even former flame Alyssa Milano thinks he's a flake.  I considered maybe a deal with a medical equipment company, but I'm pretty sure if there was a way to injure yourself in an MRI machine, Carl would figure it out.
Vincente Padilla: Oh Vicente, you have a mound of talent but choose to hide it with extreme disregard for everyone around you, including your own organization.   Other than his multiple DUIs and other assorted alcohol problems, he's been known to fight, headhunt (even ex-teammates), and just be an overall prickly fellow.  Probably not someone you want selling Cadillacs.
These guys may have a tough road back to respectability, so they are going to need some help.  I recommend these guys — they run a hell of a pitch meeting:

Tagged with: American Idle • Anti-Jeters • Julio Lugo • Kobe Bryant • Milton Bradley • Pavano • Romulus and Remus • Tiger Woods • Vicente Padilla
Filed under: Uncategorized
Like this post? Subscribe to my RSS feed and get loads more!
Possibly related posts