Brian Westbrook Talks Redskins With NFLPA
Thursday, May 27th, 2010 at 1:47 am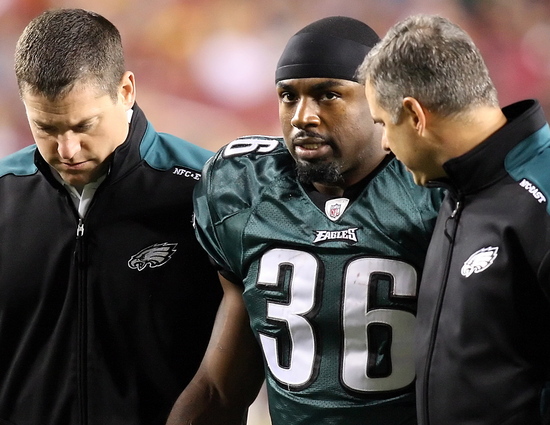 Yesterday Brian Westbrook sat down with the NFL Players Association for an interview about his offseason and his career.  In this interview, B-West had a few things to say about the Redskins and his offseason visits with teams and a couple things he said really stuck out to me.  First:
Q: How did your recent visit with the Washington Redskins go?

A: It went really well. I enjoyed them and the coaching staff. I'd love to be a part of that organization. They have a quality organization—I just have to find out if I can fit into their system.
Ok, nothing super interesting there, just typical "Please sign me!" type stuff, except for the fitting into the system thing.  I think what he's really saying is that he's not sure he wants to split carries with the "Return of the 2005 Running backs SUPER STARS!" backfield the Redskins currently have on their roster.  Apparently he's not sold on Mike Shanahan's VOLTRON theory on old running backs…neither am I.
Let us continue…
Q: Being from the Washington, D.C. area and playing your high school ball at DeMatha, how special would it be if you were to play here?

A: Of course it would be special to play in your hometown, where you were born and raised and still live. Of course it would be special to be on a team with a winning tradition.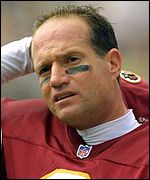 Wait a minute here, a winning tradition?  In Washington DC?  Maybe if he's talking about DeMatha but I'm not sure he really believes that the Redskins really have a great winning tradition.  Sure from 1971-1976 they made the playoffs for 5 out of 6 years.  Also, we all know what they did in the 80s and early 90s…but since 1992, this team has made the playoffs just 3 times.  3 times in 18 years.  Hell of a tradition there, huh?
This team has been in DC since 1937, do know how many times they've made the playoffs since they arrived in Washington?  22 times.  Yes, just 22 times in over 75 years.  As a comparison, the Dallas Cowboys didnt come into existance until 1960 and you know how many times they've been to the playoffs?  30…in almost 30 less years.  Winning tradition in DC?  Hah!
Lets move on, here's what else he said about the Redskins:
Q: Having been a teammate of Donovan McNabb's for so long, what kind of a fit do you think he is, and will be, with the Redskins?

A: I think he's a good fit. I think he's a proven quarterback who can get it done. He's a great leader and he brings accountability to this football team that they might not have had before.
Really, he's not going to trash McNabb in this interview since he could play with him this season but he does kind of take a swipe at Jason Campbell here.  Is he saying that J.C. never took accountability for any of the things the team did horribly in his tenure as the starting quarterback?  I mean, from my perspective, I think Campbell fell on so many swords for this team that i'm surprised his nickname isn't Seppuku.
McNabb, on the other hand, threw teammates under the bus a few times up there in Philly…probably why no one was really upset when he was traded away here.  Great leader, right, i'm sure he thinks he is, but I don't really see it.  We'll see how great of a leader he is when he's pouting on the sidelines after getting benched for throwing yet another interception because the Redskins patchwork line cannot give him any protection whatsoever.  Should be a fun year!
Final words from Westbrook:
Q: At this point in the offseason, do you give yourself a timetable for when you'd like to sign with a new team by?

A: Nah, I don't give myself a timetable. I just want to be a part of a team, and when I get there, I'm gonna give them everything I have so that I can be a productive player this year.
In other words, "I'd really rather not have to participate in any OTA's and preferably as little training camp as possible.  I mean really guys, don't you know my head is more fragile than a Fabergé egg??"  My money is on Wesbrook pulling a Favre and waiting until the last minute to sign with a team.  He'll be praying a team with a legit playoff chance loses a running back in training camp, then swoop in and take that spot…or sign with the Redskins for Dan Snyder's goofy money and be the Redskins 2010 version of T.J. Duckett.
So here's to Brian Westbrook, we at the Deuce wish him well in finding a job…just not in D.C.
From NFLPA
Tagged with: Andy Reid • Brian Westbrook • Dan Snyder • Donovan McNabb • Jeff George • Mike Shanahan • NFL • Philadelphia Eagles • Voltron • Washington Redskins
Filed under: Uncategorized
Like this post? Subscribe to my RSS feed and get loads more!
Possibly related posts