John Terry Loves Carp But His Dad Loves Coke
Tuesday, November 10th, 2009 at 5:15 am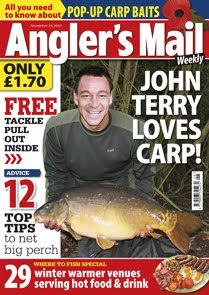 The Fiver brings us the excellent news that Chelsea and England captain John Terry will be gracing the cover of this week's Angler's Mail. He discusses his love of fishing and laments that he won't have much time to work on it before the World Cup next year. We haven't read the article but we're pretty sure he doesn't discuss his dad's love for angling in new disco customers. That's coke for all you non-party people.
News of the World dropped a bomb on Sunday morning with a cover story about how a NOTW operative was able to buy coke from Terry's dad, Ted at an Essex pub. Ted "muscled" his way into selling three grams of marching powder to the NOTW while telling the fake buyer that he shouldn't mention the familial connection to his son, John. Ted made a little less than $60 for the deal even though he's a kept man thanks to his boy's riches. The whole transaction was caught on video. Sven-Goran Eriksson feels his pain.
Terry's dad is a drug dealer and his mom's a shoplifter. You can take the boy out of the East End but you can't take the parents out of it. It was going to be interesting to see how this revelation would affect Terry's play on Sunday against Manchester United. A figurative kick to the balls the night before and a literal blow to them during the match didn't seem to affect him at all. Credit due considering the circumstances.
Wait a minute. The video of the douche brushing his teeth behind the dugout is starting to make sense. Maybe he caught up with Ted before the match and wanted to make sure the product really got up in there and numbed him up right. He could actually be onto a new delivery system. Why go finger when you can go toothbrush? Brilliant!
Filed under: Chelsea • Drugs • John Terry • Seriously What The Fuck • Soccer
Like this post? Subscribe to my RSS feed and get loads more!
Possibly related posts