A Moment Of Silence Please…
Monday, June 30th, 2008 at 4:17 am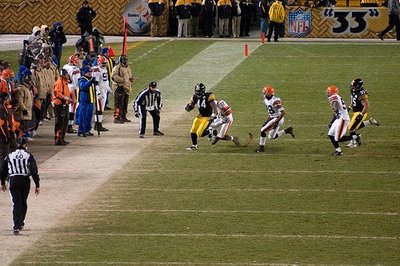 Former Steelers RB Najeh Davenport shitting out a trail of Cleveland Browns.
It wouldn't be right if we didn't note the release of our namesake Najeh Trenadious Monte Davenport. He's our guiding light. He's our everything. To us, Najeh is more than a shit joke. Well, that's not true. He's mostly a shit joke but he's also a quite capable backup. Chimp and I as well as the women of Barry University thank him as well as the inspirational power of Strongbow for helping us become who we are today. The Deuce wholeheartedly endorses him to any NFL team looking for consistent, regular leadership and occasional on-field play.
Filed under: Barry University • Deuce • NFL • Najeh Davenport • Pittsburgh Steelers • Strongbow
Like this post? Subscribe to my RSS feed and get loads more!
Possibly related posts