Has Judaism Jumped The Shark?
Tuesday, October 2nd, 2007 at 5:15 am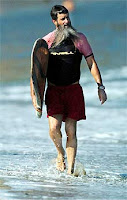 Now I know how Arnold felt on Diff'rent Strokes when he wanted to have his own bar mitzvah. I can't find that episode so here's a link to the Mr. Horton episode. Get that out of your head the rest of the day.
Do surfing and Judaism go together like ham and cheese on a sandwich? Is a Kabbalistic soul quest is like a Vision Quest? Meet Rabbi Nachum Shifren, the surfing Rabbi. He has the answer to all these questions and more.
Fuck Madonna. We gotta say Rabbi Shifren makes Judaism kick ass. Avram Grant wishes he repped the chosen people like the Rabbi.
We couldn't leave you without giving you the Fonz.
Thanks to Dr. Fred in Venice for the tip.
Filed under: Avram Grant • Chelsea • Diff'rent Strokes • Fonzie • How Could Gordon Jump Do Dudley Like That • Judaism • Jump The Shark • Surfing
Like this post? Subscribe to my RSS feed and get loads more!
Possibly related posts