Want to Talk to Larry Holmes?
Thursday, August 2nd, 2007 at 5:51 am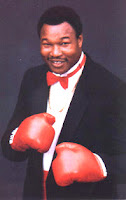 If you want to, you apparently can talk to Larry Holmes for the low low price of $19.95. Hollywood is Calling offers up "celebrity" birthday phone calls and amongst its formidable roster of "C" list celebrities you can get Larry Holmes, Lazer from American Gladiators, Lou Ferrigno, and a few WWE ex-stars like The Ragin' Cajun , Raven, and Rick Drasin to call you and wish you a live Happy Birthday greeting.
How Jose Canseco, the entire rest of the cast of American Gladiators, Jeff George, Ryan Leaf, Mike Tyson, OJ Simpson, Peyton Manning (does he ever miss out on a money making opportunity?), Oliver McCall, Joe Theisman, or any other disgraced, out of work, or money whoring athlete hasn't jumped all over this is beyond me. Surely they all have the time to make a little extra cash for whatever stardom (or infamy) they have left.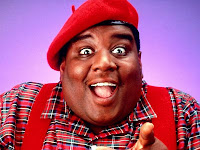 I even know for a fact that these are well worth the money for the unexpected birthday phone call. Trapper John once hooked me up with an unforgettable and nearly unintelligible birthday phone call from Rerun of What's Happening! fame…that was one of the greatest and most hilarious birthday surprises I have ever had.
Amazingly, they didn't even pay me for this bit of minor publicity or for attempting to help them fill their rosters with more athletes. I just really want to one day get Peyton Manning to call up someone and just yell "CUT! THAT! MEAT! Oh and happy birthday". I'd pay 20 bucks for that.
Filed under: Hollywood is Calling • Joe Theisman • Larry Holmes • Lazer • Lou Ferrigno • Mike Tyson • OJ Simpson • Peyton Manning • Ryan Leaf • WWE
Like this post? Subscribe to my RSS feed and get loads more!
Possibly related posts