I'm Not Normally A Praying Man But If You're Up There…
Friday, August 31st, 2007 at 5:47 am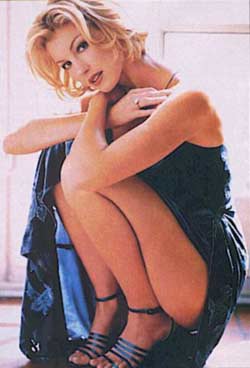 Damn you for making me say what I'm about to say.
There is no god. How do I know? Two words: Faith Hill.
It wasn't enough that ABC/ESPN polluted the airwaves like Beijing with Pink and the Black Eyed Peas. Apparently NBC felt left out and decided to one-up ABC/ESPN by having Faith Hill sing the theme for Sunday Night Football this season.
This is some bullshit I would expect from Disney but not from NBC. They have a proud past when it comes to sporting theme songs which culminated with the brilliant Roundball Rock.
John Tesh must be rolling in his grave.
This is just another example of the demise of professional sports in America. Domestic violence, dogfighting and making it rain be damned. Let's not even bring up Ryan Seacrest's involvement with this season's Super Bowl.
What's next? Paula Cole? Celine Dion? Jewel? Do these assclowns realize it's football? How's a theme song sung by Faith Hill going to make me ready for some football?

Hill, who's sold 30 million records worldwide with hits including "This Kiss," "Breathe" and "Mississippi Girl," has already recorded the theme songs in New York, altering the lyrics a bit with each one to include the teams playing that week. She shot an accompanying video for the show in Los Angeles.
Think of any lyrics you can plug into those songs that will get you hype like the themes to the NBA on NBC, Fox NFL Sunday and even Hockey Night in Canada? If you do, you're not only wrong. You're a jackass. And what's up with forcing country music down our throats as though we're getting our foie gras on like ducks. I'm not saying there's no place for it but it's as though the networks think people who like country are the only ones who watch football.
Another stupid idea. It seems as though GE has no more interest in bringing good things to life. Only sucking the life out of the few things I still love.
Filed under: Country Music • Faith Hill • NFL • Sunday Night Football • Television • The Suckiest Sucks That Ever Sucked • football
Like this post? Subscribe to my RSS feed and get loads more!
Possibly related posts