Random Video: Bugs Bunny Baseball
Saturday, June 30th, 2007 at 7:59 pm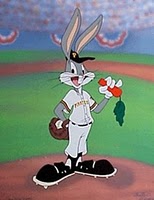 Its the weekend, and it is too nice to be stuck inside and posting, so I leave you with a classic Bugs Bunny cartoon of him playing ball on the Polo Grounds. Enjoy it if you're stuck inside this weekend.
Filed under: Baseball • Bugs Bunny • Polo Grounds • YouTube
Like this post? Subscribe to my RSS feed and get loads more!
Possibly related posts