Oh Karen! Teacher's Aide Submits High School Wrestlers With Her Mouth
Wednesday, August 25th, 2010 at 9:00 am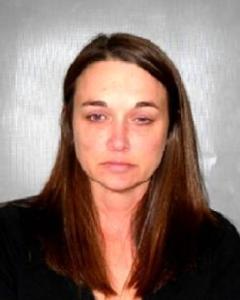 Wrestlers at Orland High School would have been better off looking into the Ark of the Covenant than spending time with Laura Gallegos. The off-brand Karen Allen has one submission hold that no wrestler can resist.
Gallegos was arrested after sexting and servicing several members of the Shasta High wrestling team.
The Glenn County Sheriff's Office says the investigation started when they received a call from an Orland area mother who believed her 15-year-old son was receiving explicit text messages from an older woman. The mother told deputies her son was on the Orland High School wrestling team, and while they were at a tournament in Reno, she noticed her son's cell phone with a saved contact listed as 'GF' with a phone number.

By chance, the mother of another wrestler had received a text message from the same number, which belonged to a third mother, Laura Gallegos, who at the time was a teacher's aid at Shasta High School. The mother told officials when she confronted her son about the text messages, he admitted they had been 'sexting' each other.

During this time, a second possible victim, age 17, from Orland and a member of the wrestling team was also identified.

That teen admitted meeting Gallegos for the first time in Red Bluff during his lunch period at school in March, and having sexual contact with her inside a vehicle. The victim also told investigators the suspect had performed a sex act on him while seated in the stands at the wrestling finals in Bakersfield, and that they had met for sex in Corning on a separate occasion.
Gallegos was charged with "two counts of exhibiting lewd material to a minor, three counts of contacting a minor to commit lewd acts, two counts of arranging meetings with a minor to commit lewd acts, one count of oral copulation, and two counts of unlawful sexual intercourse with a minor with a three year, or more, age difference". Take that, Gary Glitter.
Blowing a kid in the stands during a wrestling tournament is a way to show the team how to perform at any time and any place like Janet Jackson. If a simple teachers aide can perform under pressure, no one on the mat has an excuse. Not only are we going to Red Bluff, off-Brand Karen Allen. We're going to Orchard and Reno and Redding and then we're going to Bakersfield to take back the wrestling championship. BYAHHHHHHH!
Tagged with: Ark of the Covenant • Crime • Dave Chappelle • High Schools • Howard Dean • Raiders of the Lost Ark • Wrestling
Filed under: Uncategorized
Like this post? Subscribe to my RSS feed and get loads more!