The Pink Hats Will Be Back
Tuesday, April 20th, 2010 at 9:56 am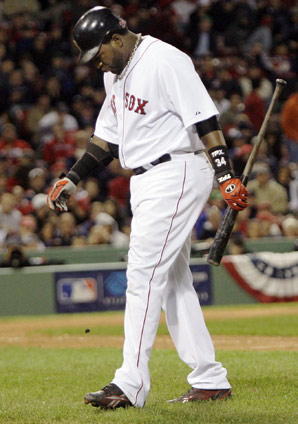 After Monday's
8-2 loss to Tampa
, Red Sox Nation entered into full-scale panic.  At 4-9, the Red Sox are off to their worst start in 14 years.  They're 1-6 at the "world's greatest baseball cathedral" and already six games out of first place.  With a
run differential of -19
, the Bo Sox are closer to last place Baltimore in the standings than 3rd place Toronto. 
The Nation is not happy
.  A friend of mine who supposedly "bleeds for the team" sent me an email yesterday saying with Boston's rough start, he was "already getting ready for football season."  Red Sox Nation: Est. 2004. 
Before we get upset over a two-week period that encompass less than 10% of the season, let's keep in mind this start means nothing.  Yeah, you heard me: nothing.  The baseball season is a grueling marathon.  April 30th isn't even the completion of the first leg.  Sure, Houston and Baltimore fans should probably start scouting Texan and Raven draft picks, but Boston has no need to worry just yet.  On this day in 2008, the Arizona Diamondbacks were
13-4 with a +56 run differential
.  The next closest?  The Chicago White Sox at +26.  The Diamondbacks were crusing…
To an 82-80 record and a +14 run differential
.  They missed the playoffs.  
Hot and cold starts are just that: two weeks of streaky baseball.  Unfortunately, because they happen in April instead of August, they get way overblown.  As much as I hate myself for doing this, I will put on my Obama hat and try to alleviate a Nation's fears.
Most of the griping centers around the offense.  "Billy from Brighton" has a point: the team is hitting .267 with a .327 on-base percentage (OBP).  Even with a respectable .785 On Base Plus Slugging % (OPS) (the 2007 title team OPS'd .806), this is a major concern.  But let's take a look at the starters so far in 2010 and see how that matches up with their 2009 performance as well as career numbers:
(2010/2009/Career- OPS*)
1. J. Ellsbury: .800/.770/.765
2. D. Pedroia: 1.095/.818/.832
3. V. Martinez: .576/.861/.833
4. K. Youkilis: .796/.961/.877
5. D. Ortiz: .527/.794/.919
6. A. Beltre: .668/.683/.788
7. J. Drew: .499/.914/.893
8. M. Cameron: .694/.794/.787
9. M. Scutaro:  .763/.788/.722
(*Nerd disclaimer: Realizing OPS is not the perfect statistic, it's a quick and dirty way to measure effectiveness, so we'll go with it for now.  For more on OPS,
see this
.  Why yes, I
am
 single, thanks for asking!)
Anyway, the Red Sox 3-7 spots in their Opening Day lineup have drastically underpeformed their expected production.  Will this hold out for the rest of the season?  Unless Boston is terribly unlucky, I doubt it.  Even if you concede Ortiz's best days are long past, the Red Sox have Mike Lowell, a guy with an .810 career OPS as well as an extremely deep farm system to shore up any other positional deficiencies.
The much-heralded pitching staff has struggled, but take away Lackey's start Monday and he's been pretty good (2ER in 12.2 IP).  Barring an undiagnosed injury, I believe Jon Lester's 8.44 ERA is a mirage: the guy still has the
highest K/9 inning rate
of any starter on the team.  He'll rebound. 
The bullpen?  Well, aside from Ramon Ramirez, the rest of the them are solid — all with ERAs under 4 (except Scott Schoeneweis at 4.05).
Verdict?  Other than giving hope to fans in Baltimore that they might be spared from a flock of Sox fans (born in Glen Burnie, of course) invading their stadium this summer, the Red Sox aren't close to being done.  Even if Pink Hat Nation has given up on them, the rest of the American League should not.
Tagged with: Boston Red Sox • MLB • Panic • Pink Hats • Red Sox Nation
Filed under: Uncategorized
Like this post? Subscribe to my RSS feed and get loads more!