Book It: Washington Will Win the Stanley Cup (and Chinatown will never be the same)
Thursday, March 25th, 2010 at 12:46 am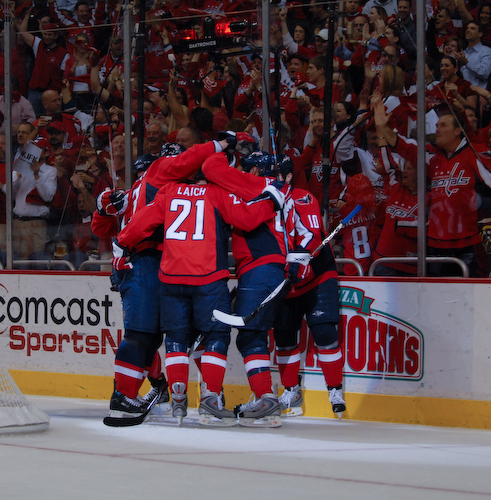 One of the greatest things about the NHL playoffs is that the front-runner almost never wins.  The storied history of the NHL is littered with teams that had phenomenal regular seasons but fell short in the playoffs.  Last year, none of the six division winners were able to claim Lord Stanley's Cup.  In fact, the Red Wings were the only division champions to advance to the conference finals.  The San Jose Sharks, last season's point leaders, were knocked out in the first round. 
Taking all of this into consideration, the Washington Capitals, after
another thrilling victory
over the Pittsburgh Penguins last night, will win the Stanley Cup.  And here's why:
-The team is incredibly well-rounded.  With nine games left in their schedule, they have five players with 50 or more points.  Two others have more than 45. 
-What's the basic premise in hockey?  Score more goals than your opponent.  At +81, their goal differential is ridiculous.  The next closest is Chicago with +57.  It's the highest differential since the 2005-2006 season. 
-They're pretty great on the road.  With 22 road victories, they're tied for the most in the NHL.  They're also pretty good at home — their 27 wins on home ice is also tied for most in the league.
-Jose Theodore and Semyon Varmalov are not exactly reminiscent of Domink Hasek or Patrick Roy (although Theodore has been 17-0-2 since mid-January), but winning a cup with slightly above-average goalies has been done in the not-to-distant past.  In 2005-2006, the Cup-winning Carolina Hurricanes had two goalies with GAA's and Save %'s worse than both Theodore and Varmalov.  Much like this season's Capitals, those Hurricanes spread the wealth: they too had over five players with 50 points or more.
-Olympics heroics or not (and really, is it that hard to win a gold medal when Rick Nash and Jerome Iginla are your line-mates?), the Capitals have arguably the best player in hockey.  And he's not afraid to hit somebody.
-They show up for big games.  Undefeated in three games against the Penguins this year.  The Flyers?  An imperfect 3-1, with the one loss coming in the third game of the season.  In those four games against Philly: 23 goals scored.  Three wins against playoff-bound Buffalo.  Wins against Detroit and Chicago.  The one team they've had trouble with all year, the New Jersey Devils, they beat 4-1 in their last meeting.  The Caps aren't afraid of anyone.
In a town that desperately needs a winner, the Washington Capitals have the opportunity to banish the misery of DC sports fans everywhere.  At least until the Redskins start training camp…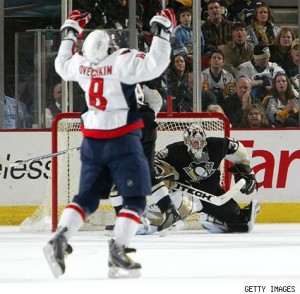 Tagged with: Alex Ovechkin • NHL • Pittsburgh Penguins • Sidney Crosby • Stanley Cup • Washington Capitals
Filed under: Uncategorized
Like this post? Subscribe to my RSS feed and get loads more!