Carrot Top Has A Slight Chance Of Being Run Over This Weekend
Thursday, February 25th, 2010 at 1:24 am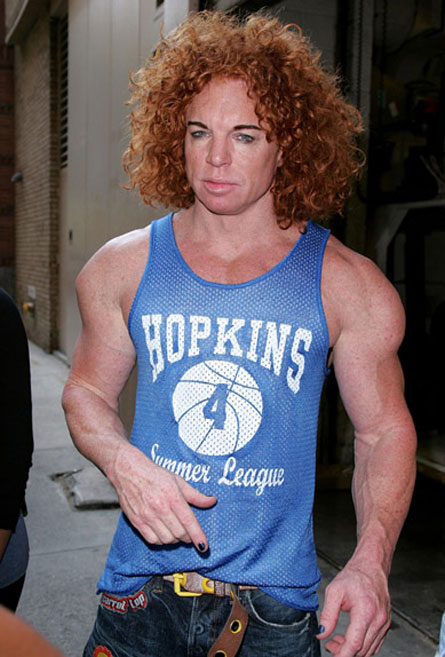 You read that right, the world has an ever so small chance to not have Carrot Top in it come Monday morning because this weekend he will be working in the pits of Mike Wallace's Monster Diesel car in the Nationwide Series race at Las Vegas Motor Speedway.  Mr. Top will be the honorary Crew Manager of the team and will be standing there holding the car's #01 sign so Wallace knows where to pull into the pit.
So, a car that weighs over 3,000lbs, that can achieve top speeds of around 200 mph, will actually be aiming for Carrot Top every single time the driver, Mike Wallace, decides to pit…how 'bout that?  Let me be very clear here, I am not wishing death upon anyone. What I am saying is that there certainly is a minuscule chance Carrot Top could get hit by a car this weekend, possibly hit very hard…with severe injuries…maybe even death…and there are some people out there that might be ok with that.  I'm no statistician, but the odds are certainly there.
Here's what Carrot Top had to say about this fantastic opportunity for him (and us):
"I can't wait to get out to the speedway this weekend and help my good friend Mike Wallace and his team," said Carrot Top. "Watching a race from the pits should be great fun.
Wait WHOA what??  Carrot Top has friends?  This story is full of surprises.
Anyway, I might actually tune into this race…I watch for the crashes of course.
From Vegas News.com
Tagged with: Carrot Top • Las Vegas • Las Vegas Motor Speedway • Mike Wallace • Monster Diesel • Nascar • Nationwide Series
Filed under: Uncategorized
Like this post? Subscribe to my RSS feed and get loads more!