Why Is Shaq Called Superman Anyway?
Friday, February 12th, 2010 at 12:42 pm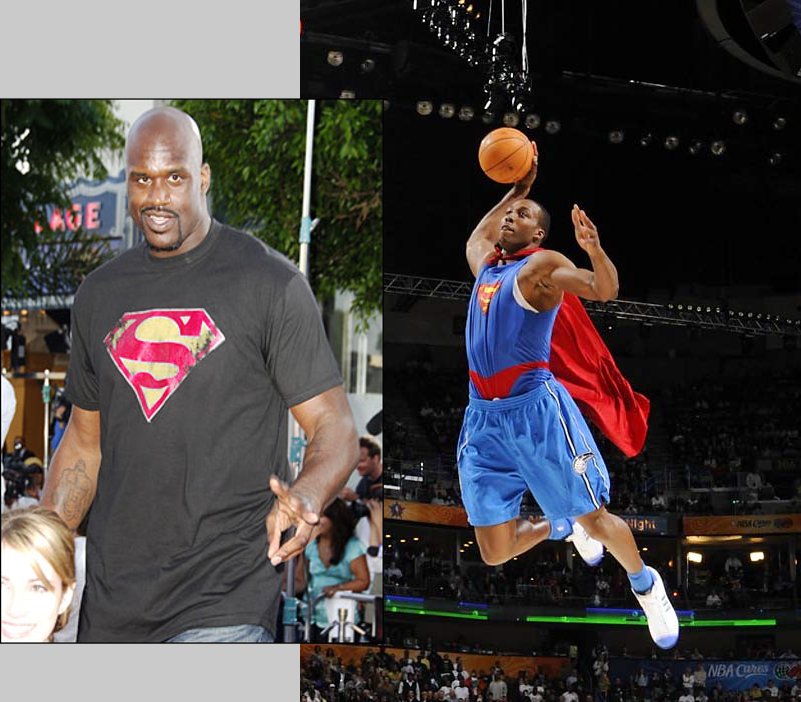 So, Shaq is bitter that Dwight has taken over the "Superman" nickname ever since his slam dunk contest appearance where he did the Superman Dunk, boo-freakin-hoo.  Seriously what has Shaq done to really earn that name besides having worn a lot of Superman t-shirts, getting the Superman symbol tattooed on his arm and starring in one REALLY bad pseudo-Superman movie "Steel"
Do you ever hear anyone calling him Superman?  I hear people call him Shaq or Diesel or Shaq Daddy or whatever but of all his self appointed nicknames, The Big Aristotle is one that sticks out more to me.  The whole Superman thing doesn't even really fit him anyway and probably never did.  I mean, sure he is big and strong, but he is hardly invincible, especially at 37  years old but never in his career has he been devoid of injury, he doesn't jump and he isn't in great shape.
Meanwhile Dwight Howard has actually donned the uniform on the court and flown through the air, like Shaq has never done.  Shaq doesn't have a great vertical, he doesn't fly, Dwight can.  Shaq at this point is closer in body shape to fat Elvis than Superman, on the other hand Dwight Howard looks almost cut from stone.  Just because Howard doesn't have a room full of memorabilia and merchandise from Superman comics certainly doesn't make him less of a Superman than Shaq claims to be.  The fact is, currently, Howard is more Superman than Shaq ever could be.
I think it is high time that he just give up the Superman thing and let the kid take it over.  Honestly, its a stupid nickname anyway.
From Cleveland.com
Tagged with: Dwight Howard • NBA • Orlando Magic • Phoenix Suns • Shaquille O'Neil
Filed under: Uncategorized
Like this post? Subscribe to my RSS feed and get loads more!
Possibly related posts