That Wasn't Part Of The Deal
Friday, June 12th, 2009 at 4:17 am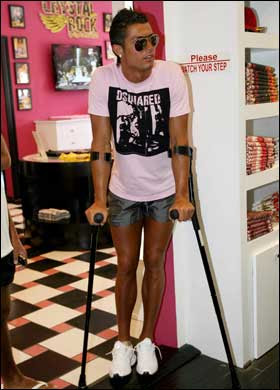 If you spend money on something, you expect to get exactly what you paid for. Anything extra is a bonus. This is a post about a bonus Real Madrid doesn't need or want. The thought of Cristiano Ronaldo hooking up with Paris Hilton should send the Real hierarchy into panic mode. It's unlikely the club counted on getting a case of the herp along with the opportunity to negotiate terms with the FIFA Player of the year when they paid $130 million to Manchester United.
TMZ reports that Ronaldo met the queen of chickenheads up in the club and ended up accompanying her to her sister Nicky's house. That physical better include a trip to the free clinic. The idea of him playing at his best during an outbreak is laughable. He whines and dives when he's healthy so one can only imagine how he'd act when "under the weather". He's no Mike Tyson. The former champ won a title belt while ignoring a case of gonarrhea. That's just wanting to be the best. Ronaldo and his agent might want to consider including a supply of Valtrex when negotiating his $500,000 a week salary.
Filed under: Clap Your Hands Everybody • Cristiano Ronaldo • Manchester United • Paris Hilton • Real Madrid
Like this post? Subscribe to my RSS feed and get loads more!
Possibly related posts