Stupid Is As Stupid Does Play In Philadelphia
Monday, November 17th, 2008 at 5:36 am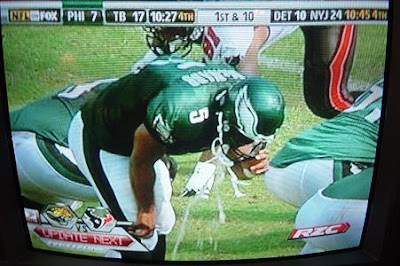 Has it come to this? Donovan McNabb is proving Bernard "The Executioner"Hopkins right. It was only last week that Bernard Hopkins called out McNabb for being weak and "crumbling under pressure".

"Some people are athletes, still good, but don't have that extra 'I'm willing to sacrifice my life. I'm willing to sacrifice what I have to sacrifice to win.' … People never forgot when things happen, they see a guy crumble under pressure. Whether they throw up on the highway, whether they throw up on the court, whether they throw up on the football field, when people see that, that sticks in the back of their mind."

Hopkins continued: "Every athlete should have that killer instinct in him, especially if you the quarterback… If he's not right here and here [pointing to heart and head], and don't want it, the team feel the vibes…"
McNabb didn't do himself any favors yesterday leading the Eagles to a tie against the Bengals with four interceptions. The topper came in the postgame press conference when he admitted that he didn't know ties were possible in the NFL.
Talk about not being right in the head. How could McNabb not know that games can end in ties? How long has he been in the league? How could he not know the rules? Let's put his lack of knowledge about the basic rules aside for a moment. It's not like anyone else on the Eagles knew what time it was.

"To be honest, I didn't know there wasn't going to be another overtime," [safety Quintin] Mikell said. "I didn't know it was going to be a tie. I was kind of happy. I thought we were going to get another overtime. After I realized it was a tie, I was pretty ticked off. I felt we should have come in and won this game. That's a team we should have beat. We didn't come out ready to play, all across the board, so it's a loss to me."
What does Herm say? "You play to win the game!" Does this mean Andy Reid didn't know the game could end in a tie as well? Were the Eagles playing for another overtime period instead of the win since they didn't realize the game was going to end? If so, add today's debacle to the list of donkey moves along with the goalline disaster at the end of the Bears game several weeks ago.
Once again, Reid's decision making and McNabb's execution have to be called into question. They can still make the playoffs but they won't go anywhere if they do. It may be time to break up the band after the season. The Eagles have only shown excellence in consistent mediocrity during the Reid/McNabb run. I shouldn't sell them short. They are excellent dick teases. They show a little skin at the beginning of the season and get Philly fans excited. However the fans get in the pants and find out they're in shemale country again just like last year. How long can this continue before the city cries "uncle"? In the words of Emmitt, the Eagles fans were debacled by their own team once again. Unfortunately it won't be the last time.
Thanks to PFT for the video.
Filed under: Andy Reid • Bernard Hopkins • Donovan McNabb • Emmitt Smith • Philadelphia Eagles
Like this post? Subscribe to my RSS feed and get loads more!
Possibly related posts