Air Chimichanga
Monday, November 26th, 2007 at 5:10 am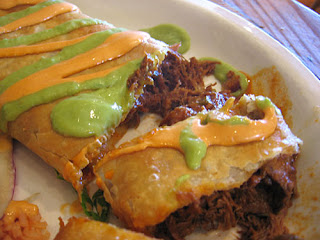 His Airness had a good crossover as a player, now Michael Jordan is crossing over his restaurant enterprise into a new venture. Jordan started up a Mexican restaurant around a month ago named SolToro. We all know about Michael's steakhouse in NYC, as well as his ill fated Jordan's in DC and Restaurant in Chi-town, but now MJ has ventured into uncharted territories with some classy Mexican food in the ever popular Mohegan Sun casino to go along with his sportsbar and steakhouse in the same building…and we have the video of the opening. Check it out.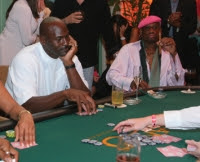 What better to open the restaurant with some classy A list celebrities like Ahmad Rashad! How "classy" is Jordan here showing up in jeans with a cranberry red sport coat, the man is worth like a half a million dollars, he couldn't do better than that? I also love that a casino that has 3 Jordan restaurants is the Mohegan Sun and not any Vegas casino or even an Atlantic City one, but an Indian casino in Connecticut that is really known best (and possibly only) for their large poker room. When asked why he put another restaurant here his answer was "Why not?", well i guess that is as good a reason as any.
Filed under: Casino • Chicago Bulls • Michael Jordan • Mohegan Sun • Restaurant • SolToro • Steakhouse • Washington Wizards
Like this post? Subscribe to my RSS feed and get loads more!
Possibly related posts