Monday, July 26th, 2010 at 8:00 am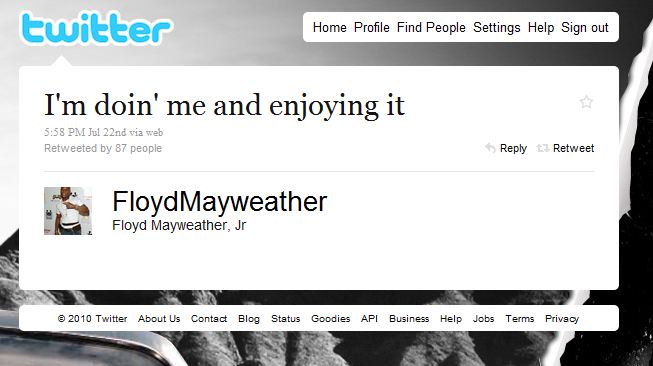 At least we know how Floyd Jr. keeps himself busy when not running from Manny Pacquiao
Everyone knows Floyd "Money" Mayweather Jr. is a bit off but no one should blame him for it. It obviously comes from his father.
Floyd Mayweather Sr. went off on Manny Pacquiao during an On The Ropes Radio interview earlier this month.
"I'd tell him he's a faggot," Floyd Sr. said, when asked what he would say to Pacquiao face to face, if given the chance. "That's what I'd tell him. I'd tell him he ain't nothing but a little sissy; a little girl."

"The only thing they're trying to do is to switch this around and make it look like it's my son that's scared," Mayweather Sr. continued. "He ain't the one that's scared. I know who's scared."
Mayweather Sr. didn't stop there. He decided to go full Mel Gibson.
"My problem is, Bob Arum don't call no [expletive] shots," he said. "The fight can be made anytime they want the fight to be made. 'Little Floyd' definitely ain't scared of no Pacquiao. That's the last thing in the world that little Floyd is scared of—a little Filipino midget. Definitely that's not the case."
Money's father ranted about Arum backing Pacquiao because he represents him and how his son should get more money because…well I don't really get it.
There's also something about drug testing and Miguel Cotto in there. However there's no mention of how Pacquiao would fight Cotto because his son won't agree to the fight even though Pacquiao agreed to Olympic-level blood testing.
Still haven't seen boxing embarass itself enough? Here's Danny Green vs. Paul Briggs from Australia. 30 seconds of the sweet science at its finest. Stick around for the post-fight interview.
Don't try to tell me Don King wasn't in the house that night.