Monday, December 20th, 2010 at 8:15 am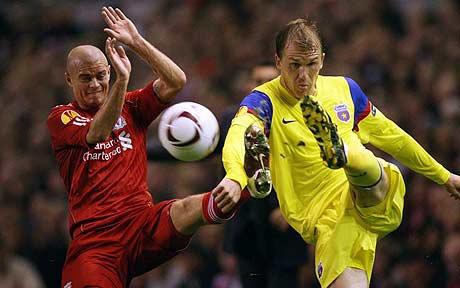 To say Liverpool defender Paul Konchesky is having an awful season would be an understatement. Liverpool are a flaming bag of crap but he stands out even more than the team as a whole. How bad is it? His mom is showing more fire and passion than he has all season. Two problems. She's doing it on Facebook and she's talking shit about Liverpool and its supporters.
Carol Konchesky took her Facebook page down after posting a status update ripping the team and its fans.
Konchesky took offense to comments made about her son by fans after he had another shit game against Stoke. She decided to respond via a Facebook status update. Let's just say she didn't hold back.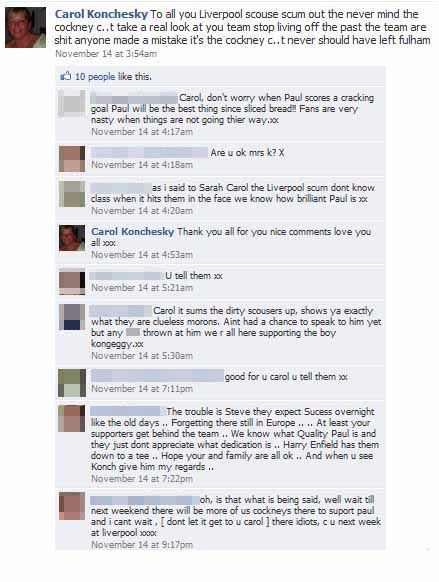 It takes next to nothing to set Scousers off on indignant rants and robbing sprees. This situation was no different. Konchesky was forced to take her page down after angry fans started bombarding it with what I'm sure were calm, logical responses.
One person had a reasonable response to Konchesky's comments.
Les Lawson, secretary of the Official Liverpool FC Supporters' Club, said: 'Comments like that are deeply unhelpful and extremely disappointing.

'We Liverpudlians have been called worse in our time but the only person who is going to end up harmed by those comments in the long run is Paul Konchesky.'
Lawson is right. Konchesky is probably thankful this past weekend's matches were snowed out. If he thinks he's getting it bad now, just wait until the next match. His mother can forget going to any home matches. If there's one thing Liverpool fans do besides steal, it's never forget to remind you of any perceived injustice. Best of luck to the Koncheskys. They're going to need it.