Someone Really Doesn't Like Eric Chavez
Monday, May 24th, 2010 at 2:55 am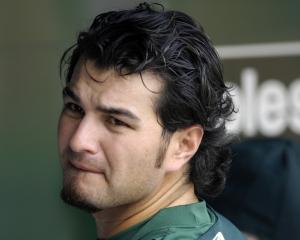 You probably can't see this unless you click on the below image or click this link to his Baseball-Reference.com page, but someone has sponsored Eric Chavez' baseball-reference player page and put an ad up that says this: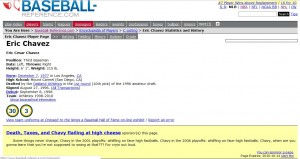 Death, Taxes, and Chavy flailing at high cheese sponsor(s) this page.

Some things never change. Chavy in the 2001 playoffs: whiffing on face-high fastballs. Chavy in the 2006 playoffs: whiffing on face-high fastballs. Chavy, when are you gonna learn that you're not supposed to swing at that??? For cryin out loud.
That is awesome dedication to player hatin' right there.  If you're willing to pay cash money to air your grievances about a player that you cannot stand and display it on his virtual baseball card, you sir are a hater extraordinare.  Bravo.  Bravo.
Who would you do this for?
Tagged with: Baseball Reference • Eric Chavez • MLB • Oakland As • Oakland Athletics
Filed under: Uncategorized
Like this post? Subscribe to my RSS feed and get loads more!