Wednesday, December 15th, 2010 at 8:30 am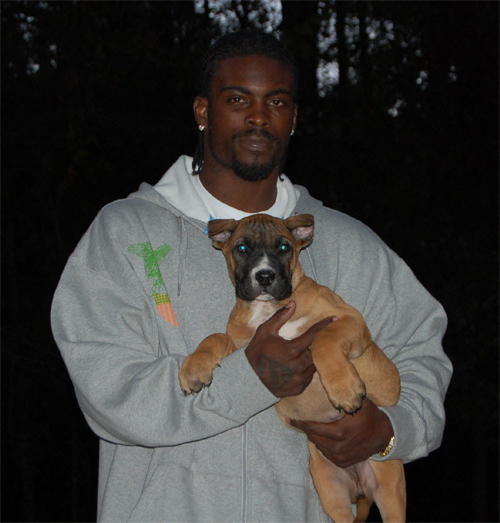 "Aw who's the puppy for? Who? Hmmm … No dog for you!"
So much for having people pay more attention to his play on the field. Michael Vick confessed to wanting a new dog.
Vick sat down with NBC News and TheGrio.com and admitted he wanted a new dog to help with his "rehabilitation process".
Vick said, "I would love to get another dog in the future. I think it would be a big step for me in the rehabilitation process.

"I think just to have a pet in my household and to show people that I genuinely care, and my love and my passion for animals; I think it would be outstanding. If I ever have the opportunity again I will never take it for granted. I miss having a dog right now. I wish I could. My daughters miss having one, and that's the hardest thing: telling them that we can't have one because of my actions."
It's like the Obama press conference where he was talking about health care and then decided to give his thoughts on Henry Louis Gates Jr.'s confrontation with the police. "No! Don't go there! Not now! Aw damn, he went there…" Everyone forgot everything else he was talking about the rest of the time.
It probably isn't the best time for Vick to bring up wanting a new dog. People have finally started to talk about him only in relation to his play on the field. He should stick to talking football and his work with animal rights organizations if the conversation goes there.
It's almost impossible to have a rational conversation about Vick with "dog lovers". As far as they're concerned, Vick shouldn't be allowed to have a career let alone walk the streets. It doesn't matter to them that he served his time and has kept himself out of trouble since his release from jail. Any attempt to say otherwise means that you hate dogs or approve of what Vick did. That's ridiculous. No sane person condones what Vick did. It was disgusting and horrible. He deserved to pay for what he did. He also deserves a second chance and it's not up to any of us to determine what he should and shouldn't be able to do as long as he keeps his nose clean. Fine. Dog catcher is out.
The debate over Vick goes to the larger question of what rights felons should have after their release from prison. If they serve their time, they should be given the chance to become productive members of society with the rights everyone else enjoys. The idea is that they've learned from their incarceration and are in the process of rehabilitation. The justice system fails inmates in numerous ways but people should be given the chance to show whether they've changed or not. Obviously there are exceptions and caveats but that conversation is for another day.
People can argue about whether Vick's punishment was harsh enough and whether he's sincere about changing who he is as a person as well as his attitude towards animals. One can only hope that he means what he says. Do I feel comfortable with the idea of him owning a dog so soon after his crimes after everything I've said? At the risk of sounding like a hypocrite, no. It's too soon however I also realize that it's not up to me to determine when the time is right if it ever is. I equate it to not allowing child molesters around children even after they've served their time. It's not something that is turned on and off like a switch. It goes deeper than that. Does the urge to be that way ever go away? I don't think so but who knows. Better safe than sorry in some cases. At least he realizes that he can't and probably shouldn't have a dog for the foreseeable future.
The one thing we can say for sure is that going to prison made Vick a much better quarterback. That boy good and not terrible.
The full interview will be posted on TheGrio.com later today.