Tuesday, January 4th, 2011 at 8:30 am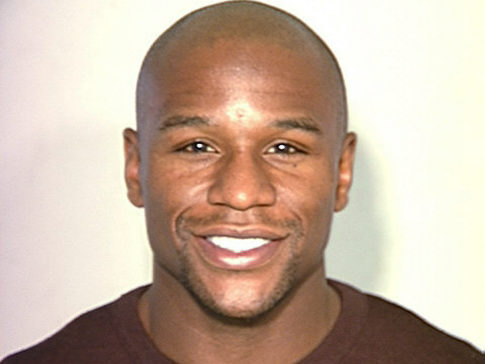 Here we were thinking Floyd "Money" Mayweather Jr. didn't want to fight Manny Pacquiao because of drug testing issues. All this time we find out he was just busy working on his Chris Brown impersonation by beating up his baby mama.
TMZ has footage of Mayweather's ex, Josie Harris, being carted out of her house on a stretcher after he used her head as a punching bag.
She can be seen writhing on the stretcher and holding her head as she's being wheeled away. Money was charged with felony coercion, grand larceny and robbery. He apparently flew into a rage over her dating C.J. Watson from the Chicago Bulls.
According to court documents posted on TMZ, Mayweather allegedly came into Harris' Las Vegas home and began assaulting her and screamed "that he was going to kill me and my boyfriend and make sure we are taken care of," Harris testified in court.

After the incident, one witness told TMZ that he was awakened around 5 a.m. after he heard "a blood-curdling scream that sounded like someone was being murdered" before he saw someone in front of the house and then two cars speeding away.
Someone needs to tell Money that he can't use his baby mama as a sparring partner. If he wants to role play the Chris Brown/Rhianna incident, he really needs her to sign off on it and he should probably take it easy.
Seriously though, he needs someone to check his ass. This isn't the first time he's teed off on Harris. He's also been filmed going off on a security guard who didn't recognize him and going on a racist rant about Pacquiao. His apology was about as convincing as Chris Brown's after making homophobic remarks and insulting molestation victims while beefing with Raz B beef. Weakest. Beef. Ever. Short of an ass-whupping, some jail time might do wonders for his attitude. Hell, he should just collaborate with Brown … on music.
It's looking more and more like the Pacquiao-Mayweather fight everyone wants to see will never happen. Money seems to run into legal trouble no matter where he goes. How soon until he ends up broke and locked up like Mike Tyson? Unfortunately for him, it doesn't appear as though he would have a rebirth like the former champ. Lucky for him, there are enough British tomato cans who still want to fight him. Bernard Hopkins made a career after prison. No reason he can't do the same thing.