Thursday, November 4th, 2010 at 7:55 am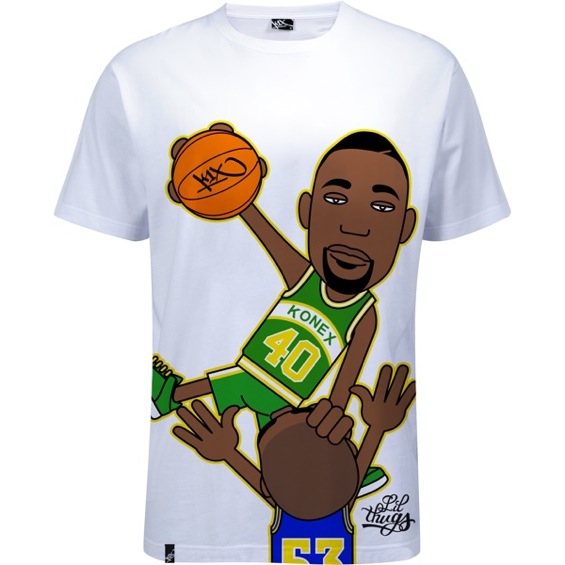 This is Shawn Kemp immortalized giving poor generic #53 a gigantic posterizing facial on a t-shirt.  It is part of the "Play Hard" series of 4 limited edition t-shirts that a company called K1x is putting out done by artist Lil Thugs.  Interesting choice putting Shawn Kemp along side the world championship "Bad Boys" era Detroit Pistons, one of the 50 best players ever and world champion Wilt Chamberlin and all time great guy/one of the best littles in the league Muggsy Bogues.
What exactly are they celebrating with Kemp?  Sure he dunked hard but so did Dominique Wilkins and he wasn't a giant cokehead/drunk with 85 bastard children looking around for their dad. I'm not sayin' I didn't like watchin the guy play for like 6 or 7 years out of his 14 year career, but if you are only making four t-shirts of people that "Play Hard", there's gotta be someone else's likeness you could choose.
I mean, if you wanted to choose a badass player, make a Charles Oakley, Xavier McDaniel or Anthony Mason t-shirt. Shawn Kemp wasn't much of a badass, in hindsight, he was just kinda pathetic.