Thursday, November 17th, 2011 at 7:46 am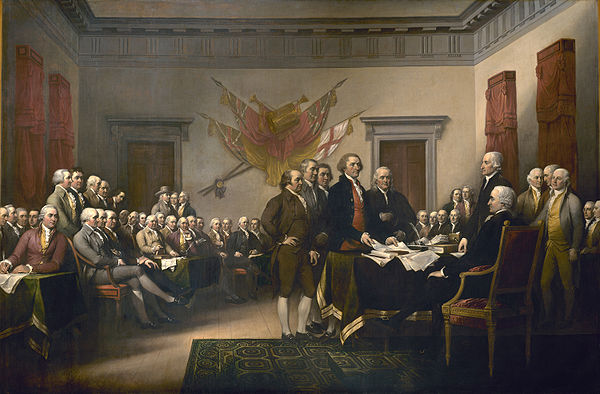 There is a school of thought, often associated with U.S. Supreme Court Justices Antonin Scalia, and Clarence Thomas, that the U.S. Constitution was a rigid document that only asks that we look to its text within the context of what our founding fathers intended. This notion is commonly referred to in legal circles as "intentionalism" or "originalism."
Well, somebody slap a powdered wig on Dana White's bald head and then put a quill pen into his nongrappling hand because the UFC has filed suit against the state of New York seeking access to the mecca of fight markets.
Work to guard and then sink in a gulliotine, FOX Sports:
Zuffa LLC, which owns the UFC, filed a lawsuit in US district court against New York Attorney General Eric Schneiderman and Manhattan District Attorney Cyrus Vance Jr. seeking a declaration that the ban violates the First Amendment.

Spokesmen for Schneiderman and Vance declined to comment.

The company was joined in the lawsuit by fans and a group of mixed martial arts fighters, who "have suffered, and will continue to suffer, irreparable harm" under the ban.

"Live professional MMA is clearly intended and understood as public entertainment and, as such, is expressive activity protected by the First Amendment," the lawsuit said.
Gee, I asked to nobody in particular as I read this article. "Could this perhaps have anything to do with the recent partnership between UFC and FOX, whose parent company, NEWSCorp is headquartered in Manhattan? Turns out that the answer is "yes."
The lawsuit comes as the sport is broadening its audience. In August, Fox Broadcasting Co. and the UFC entered into a seven-year deal that includes four fights a year on broadcast television and will pay the promoter at least $100 million annually. (The first fight aired Saturday, and, according to Fox, drew 5.7 million viewers.)

UFC, which hosts its fights inside a chain-link cage dubbed "The Octagon," holds about 27 live events each year, according to the complaint.
UFC has wanted a crack at the NYC market for years and every time they go even remotely near NYC they hold a media day in the city.
The entire 105-page complaint can be read here…I mean if you're into reading (nerd). The UFC lawsuit has names like Gina Carano, Jon "Bones" Jones, Frankie Edgar, and Matt Hamill attached to it. Fundamentally, the UFC is claiming that their right to artistic expression is being unlawfully suppressed by the N.Y. law, and that this right is manifested in the First Amendment freedom of expression.
More traditionally, the UFC also is asserting that the Due Process Clause of the 14th Amendment is being violated; which extends federal rights to all citizens; as well as the Commerce clause located in Article IV of the U.S. Constitution. Specifically, the Commerce clause protects the right of businesses to operate in other states absent a substantial reason for restricting that business. The bar proving a "substantial" reason is historically difficult though, like getting laid in high school.
Settlement negotiations have not yet begun but there is some speculation that White will offer to settle the dispute by a winner-take-all octagon match with N.Y. Attorney General Eric Schneiderman.