Tuesday, January 8th, 2013 at 9:27 am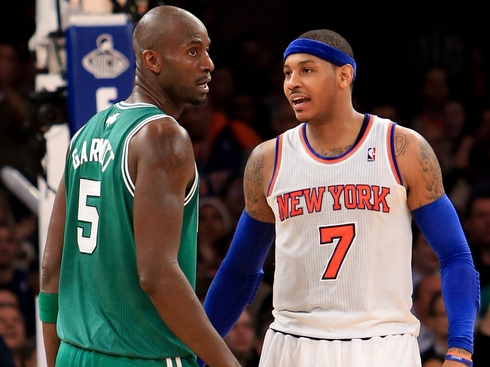 "It's MSG, gentlemen. The gods will not save you." Apparently that's the job of James Dolan's hired goons.
Did you know Carmelo Anthony wanna bump and slump with Kevin Garnett? That's also what Isiah Thomas called his MSG sexual harassment style but that's neither here nor there. KG almost found out how the City That Bleeds get down when havoc broke loose at the Garden on Monday night.
The breakout star of Stop Snitchin' took offense to Garnett mistaking him for a foreign player and things quickly went downhill from there.
'Bows were thrown, words were said and that was the end of it. Well there was the small matter of Melo waiting for KG at the vistors locker room and following him to the Celtics team bus before being forced to stand down by MSG security, NYPD and Mike Woodson.
Anthony, according to eyewitnesses interviewed by the Daily News, waited for Garnett near the Celtics bus following Boston's emotionally charged 102-96 victory on Monday night.

A potentially volatile scene was defused by Garden security personnel, five New York City police officers and even Knicks coach Mike Woodson, who rushed to the scene unfolding near the Garden ramp and ordered Anthony to leave peacefully.

A source on the scene claimed that Garnett seemed somewhat surprised and confused by Anthony's presence and acted as a peacemaker as Celtics security ushered the All-Star forward onto the bus.

…Anthony could be in more trouble since, according to the MSG Network, the All-Star forward initially waited for Garnett outside the Celtics' locker room immediately after the game ended.
Poor "surprised and confused" KG. One can imagine the thoughts running through his mind as he tried to figure out why the person coming at him was dark skinned and speaking native English instead of a romance or Slavic language.
Doc Rivers made things better when he commented on the hilarity that ensued after the game.
"If it were a playoff I'd tell on him, but since it's not I'm just going to be quiet."
Who knew Doc was such a fan of Melo's film work? He may just rock a "big penny" around his neck when the Knicks visit the Celtics in Boston.
Wait there's more. Rasheed Wallace apparently played the voice of reason by telling Melo that it wasn't worth it. What was down is now up cause ball don't lie.
Your musical reference: Rosa Parks by Outkast