Tuesday, July 12th, 2011 at 7:35 am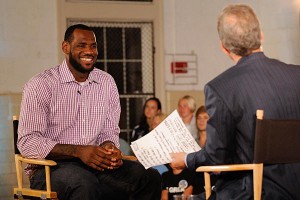 Just over one year ago choke artist Lebron James ripped our collective Cleveland hearts out of our big, fat, unemployed chests when he uttered the now imfamous "taking (his) talents to South Beach" staging a public divorce from his hometown team (well, not really, I mean he grew up in Akron, not Cleveland but Akron doesn't have an NBA team, so suck it) and the only team he had played for professionally (he probably got paid at SVSM, but semantics).
Cleveland went on to finish with the second worst record in the NBA but did manage to lock up two of the top four draft picks in the worst NBA draft in years. Typical.
While 'The Decision' was savaged by the media, including ESPN, the worldwide leader in sports is now sticking a small makeshift scarecrow outside of their hole to see if Elmer Fudd has left yet. They are now attempting to recast Lebron and ESPN's collectively selfish, and transparent tv special as a noble, and selfless act.