Friday, February 24th, 2012 at 8:19 am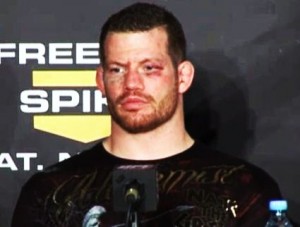 The Federal Trade Commission is currently looking into whether or not the UFC has an illegal monopoly on mixed-martial-arts in the U.S. (what about Bellator??) and since UFC purchased Strikeforce last year, and then decided to continue to run it as a seperate (but "equal") promotion I think it's clear that this concern is overblown. After all, ESPN Outside of the Lines did a terrific report chronicling how the UFC actively blackballs U.S. fighters who have the audacity to complain about their compensation, and then UFC feels free to pluck Dan Henderson, Nick Diaz, Jake Shields (to be fair he signed while Strikeforce was independent of UFC), and Alistair Overeem to UFC.
But turn those frowns upside down Strikeforce fans, because they just poached one of UFC's prized guys…granted he had been released from the promotion and looking for work for a year.
Less than a year after his departure from UFC, Marquardt has signed a new deal with Strikeforce to compete in their welterweight division.
Yay!
Ironically enough, while Marquardt was released last year from his UFC contract after elevated testosterone levels kept him out of his scheduled fight at UFC on Versus 4 against Rick Story, the Colorado based fighter never actually competed in another promotion.

Marquardt was signed to the British promotion BAMMA and was expected to debut in February, but after multiple delays the fighter asked and received his release from the organization.
The world is your oyster, Nate.