Saturday, October 23rd, 2010 at 10:36 am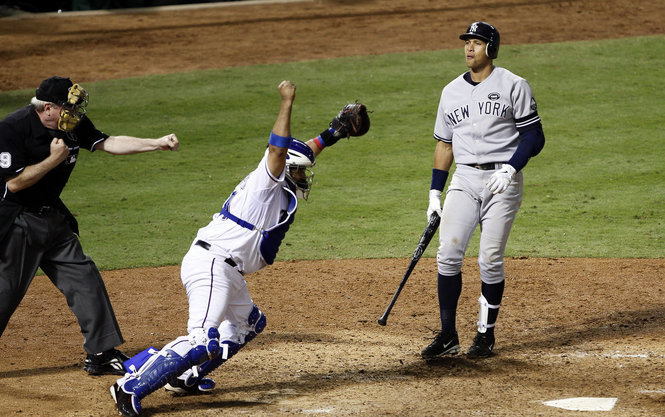 Congratulations to the Texas Rangers on making their first World Series appearance. As an Orioles fan, it's great to know that two expansion teams and a bankrupt team have made it there since they last did. I digress.
There was some kind of justice in the fact that A-Rod went down looking for the last out of the ALCS. He's going to have a much more confused look the next time he makes out with his reflection in the mirror.
The Rangers' dominant series win also was a great way to send Yankees fans home knowing Joe Girardi managed an XXL Chalupa switch better than Game 6. Baseball couldn't say goodbye to a "classier" set of fans. What are we talking about? Where do we start?
How about homophobic songs in the bleachers?
It's like Boston minus the racism. The Yankees promised to put a stop to it but it's suspect they didn't do anything about it until they were called out. Only if they policed bigotry as much as they crack down on anyone moving during the 7th inning stretch.
Let's go to Game 2 of the ALCS when Yankees fans started pelting the Rangers bullpen with trash since their team was down 8-0 and playing like garbage. Video via Big League Stew and Crossing Broad.
Not enough proof for you? How about a Yankees fan trying to throw beer on Cal Ripken Jr. before Game 4. He somehow avoided the shower. He hasn't moved that fast since the mid to late 80s. He probably called Peter Angelos and said he can still play over Manny Alexander. Unfortunately there's no video of David Wells trying to save the spilt beer.
Manager "Uncle" Ron Washington deserves credit for outmanaging Girardi and getting the most out of his journeyman pitchers and Cliff Lee. It was a decisive win to close out the series despite the umpire's best efforts to save the game for the Yankees in the 5th inning with an awful call that Joe West would have saluted.
Celebrate how you want, Uncle Ron. You still have a World Series to play but for a day, do yours.
If it's good enough for God, it's good enough for you. Hell what the people say.