Monday, August 2nd, 2010 at 8:00 am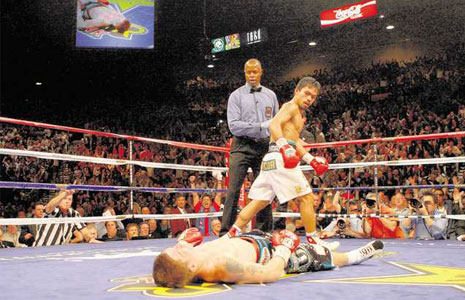 Times are getting ill for Ricky Hatton. He's taking a break from eating all the pies to return to the boxing ring. The News of the World (the newspaper equivalent of Media Takeout) reports that he renewed his boxing license with the British Boxing Board of Control.
Hatton, 32, who is now forging a successful career as a promoter has often hinted that he will not box again, but insisted: "I certainly haven't announced my retirement and you never say never."

"Floyd Mayweather Jnr was retired for two years not long ago and he made a successful comeback. It is only 14 months since I fought Manny.
Mayweather stayed in shape while he was out of the game. Hatton hasn't fought since Manny Pacquiao beat him like a rented mule in 2009. He has to be pushing something like 230 pounds these days. However he's known for packing on the pounds then dropping to the necessary weight before a fight. He hasn't gotten any faster or stronger since his last fight. Just ask Charles Barkley what he thinks about these types of comebacks.
The former champ's beloved Manchester City might be causing him to put on his gloves again. The club raised the luxury box prices by 11,000 pounds. Hatton and his friends are being forced to give up their box and sit in the stands with the common folk. Soon the Gallagher brothers won't want to be seen with him anymore. They have a reputation to maintain.