Wednesday, October 6th, 2010 at 9:00 am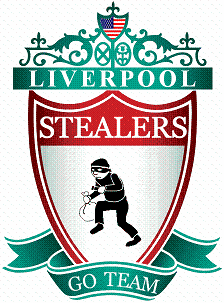 What do you get when you cross a Boston and a Scouse accent? Unfortunately for everyone, we're about to find out. The shit show that is Liverpool FC rolls on with the news that New England Sports Ventures' (NESV) bid to buy Liverpool has been accepted by the club's board.
NESV is fronted by John W. Henry who is best known for being the owner of the Boston Red Sox. The group also owns New England Sports Network (NESN), Fenway Sports Group and Rousch Fenway Racing. Board members met with Henry in Boston, Liverpool and London before agreeing to the deal. The proposed £300m deal would eliminate the debt put on the club by current owners Tom Hicks and George Gillett. The group has also agreed to consider the redevelopment of Anfield.
The club released the following statement at 7:00 AM GMT:
Liverpool Football Club today announces that the Board has agreed the sale of the Club to New England Sports Ventures (NESV).

New England Sports Ventures currently owns a portfolio of companies including the Boston Red Sox, New England Sports Network, Fenway Sports Group and Rousch Fenway Racing.

Martin Broughton, Liverpool FC Chairman, said:

"I am delighted that we have been able to successfully conclude the sale process which has been thorough and extensive. The Board decided to accept NESV's proposal on the basis that it best met the criteria we set out originally for a suitable new owner. NESV's philosophy is all about winning and they have fully demonstrated that at Red Sox.

"We've met them in Boston, London and Liverpool over several weeks and I am immensely impressed with what they have achieved and with their vision for Liverpool Football Club.

"By removing the burden of acquisition debt, this offer allows us to focus on investment in the team. I am only disappointed that the owners have tried everything to prevent the deal from happening and that we need to go through legal proceedings in order to complete the sale."

Note to editors:

The sale is conditional on Premier League approval, resolution of the dispute concerning Board membership and other matters.
[Update: An interview with Broughton has been posted on the Liverpool website since the original announcement. Watch and read it here.]
The deal is not a fait accompli by any stretch. It has to be approved by the Premier League after a vetting process. It would be one thing if that was all it took to consummate the agreement. There's also the small matter of the civil war that is tearing the board and club apart. Hicks and Gillett have driven the storied club into a massive hole due to infighting between the two and battles with board members who have not allowed the duo to drive the club into more debt. They have repeatedly stated that they would not sell to anyone without being able to realize a profit on their investment. This is not only unrealistic but it is suicidal for the club. It is believed that any deal would allow them to receive whatever they lent the club but nothing more than that.
Hicks and Gillett attempted to block NESV's acquisition of the club by replacing managing director Christian Purslow and commercial director Ian Ayre with Hicks's son Mack and Lori Kay McCutcheon, the financial controller at the Texan's company Hicks Holdings. As it stands, Purslow, Ayre and chairman Martin Broughton can outvote the two owners. They resisted the coup and the dispute will most likely be settled in court.
The [club's] statement left no doubt that Broughton, Purslow and Ayre, the majority, were in favour of accepting one of the offers and selling the club. "The board of directors have received two excellent financial offers to buy the club," it said. "A board meeting was called today to review these bids and approve a sale."

The clear implication was that, while both offers committed to clearing the £237m Liverpool owe Royal Bank of Scotland and Wachovia, which is due for repayment in nine days' time, they were not preparing to give Hicks and Gillett much for their shares. One source said the bids would repay Hicks and Gillett the money they have loaned into Liverpool, which stood at £144m at 31 July last year, but not pay them a personal profit for transferring ownership.
Even if the boardroom dispute is resolved in favor of the majority wanting to sell to NESV, there's still the matter of Liverpool supporters who have been vehement in their desire to rid the club of Hicks and Gillett. They have staged multiple protests and have even enlisted Hollywood types like Samuel L. Jackson and Michael Myers to express their disgust with the American owners. The prospect of being taken over by another American entity will fill many with dread. It might serve them well to consider the success of the Boston Red Sox before raising a stink. Broughton, Purslow and Ayre seem to have the club's best interests in mind and surely have done their homework and due diligence before agreeing to the deal.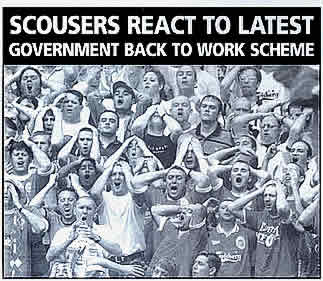 English supporters, in general, tend to resort to xenophobia when expressing dissatisfaction with foreign managers and owners. They act as if an English owner would make everything right. Pundits and fans like to refer to "respect for the history". Bullshit. There are plenty of incompetent English owners and managers. It would seem the quality of the ownership would be more important than the country of origin. Henry would be a step up from the current regime as the Kraft family would have been had their interest been reciprocated several years ago. Both know what it takes to run successful organizations with rabid fan bases. Hicks has always been an assclown when it comes to sports ownership. Just look at the Texas Rangers (who are inexplicably in the playoffs despite his best efforts to run them in the ground). Bankruptcy la la la la la!
Liverpool need to realize who and what they are at the present time. They should hope that this deal goes through for the future of the club. Nothing would please me more than to see Liverpool relegated and have to battle teams like Ipswich and Burnley on a weekly basis. The idea of two teams I detest coming together disgusts me but seems right. Two annoying fan bases and awful accents. Just wait until Boston fans start going on the dole and robbing player's houses while they're playing away games. Liverpool supporters' can adopt an even larger, overinflated sense of entitlement even though they lucked out in the Champions League and haven't won the league since Technotronic pumped up the jam with a song you probably don't remember in 1990.
This goes out to Liverpool's ownership and last league title. What you know 'bout the Adventures of Stevie V?
**One more thing. Stop singing for Kenny Dalglish. That's almost as bad as the Newcastle supporters who demanded Alan Shearer take over as manager. That worked out well. Dalglish did do well in his earlier stint as manager but this is a different time and situation. The problems at Liverpool run deeper than the manager. Roy Hodgson needs to be given time to get it right. He can only do that with the proper support and funds which he doesn't have.
It was only yesterday that fans were demanding Rafa Benitez stay put. He has a hand in the current state of affairs on the pitch as well as the ownership. That fat Spanish waiter is overrated and rode that Champions League win in Turkey until he left. He never had a clue how to win the league and ended up selling and alienating some of his best players. Two words. Xabi Alonso. Ryan Babel had the potential to be a special player but Rafa broke him and now he's a sub who spends time making up wack raps and retweeting Rev. Run.
Hate the ownership but back your team, scousers. You think they don't know how bad it is? Oh and stop robbing them too. What the hell? I know it's in the blood but damn. By the way, how come you haven't ransacked Joe Cole's house yet?