Friday, December 10th, 2010 at 8:38 am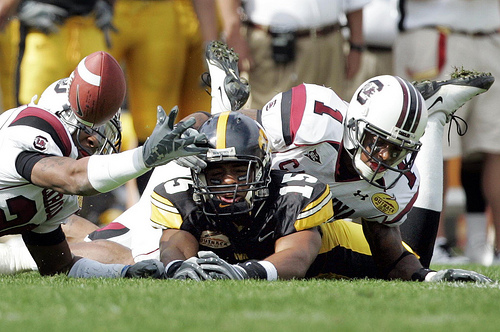 This was not the week to bet on black. Wesley Snipes finally reported to prison to start serving a three-year sentence for tax evasion. Vampires everywhere must be thrilled. Iowa receiver Derrell Johnson-Koulianos thought he could take Nino's place and turn his home into a drug house. It's unclear if a crackhead infiltrated the operation but it suffered the same fate as the Carter Apartments.
Johnson-Koulianos, Iowa's all time leading receiver in yards and receptions, was arrested along with his roommate Bradley Johnson after police raided their house on Tuesday.
Johnson-Koulianos, a Campbell, Ohio, native, faces seven charges: four counts of possession of controlled substances, two counts of unlawful possession of prescription drugs and one count of keeping a drug house. These are all misdemeanors.

Investigators found more than $3,000 in cash, marijuana, cocaine and prescription drugs in the house during the search, police said. The circumstances which prompted the search were not known Tuesday night.

Officers located a small amount of marijuana in Johnson-Koulianos' bedroom. Upon arrest, Johnson-Koulianos told police he smokes marijuana and that he'd smoked it within the past 24 hours.
Ice-T was unavailable for comment. Hopefully someone on the Iowa City police force uttered a line as hilariously stupid as "I want to shoot you so bad, my dick's hard".
Needless to say, Iowa coach Kirk Ferentz suspended the senior and first team all-Big Ten receiver from all activities.
As of Wednesday, Johnson-Koulianos was ranked 32nd among wide receivers entering next year's NFL draft by cbssports.com. I have no idea where Mel Kiper and Todd McShay had him before his arrest but I'll be damned if I sign up for ESPN Insider again. I made that mistake once and it was like I was being stalked by ESPN The Magazine. Let's be honest. It isn't even good bathroom reading and I was tired of answering questions about why I subscribed to it every time a guest used my bathroom. "I swear I didn't know it was part of the deal!" I digress.
To say Johnson-Koulianos' stock is plummeting would be an understatement. Good thing Adrian Clayborn will represent Iowa in the first round because he won't sniff the draft let alone a training camp invite. If teams (well, the Dolphins) were concerned that Dez Bryant's mom was a whore, imagine what they'll think of him. This goes way beyond the a Ricky Stanzi party.
Johnson-Koulianos has destroyed his immediate NFL prospects. Although he wasn't one of the top ranked receivers in the 2011 draft, he had a legitimate shot of being a late draft pick or getting a training camp invite. From there who knows what could have happened. There's the loss of potential income and the ability to take care of himself and family for life. However this story is bigger than the loss of money or professional status.
Johnson-Koulianos tested positive for marijuana and cocaine. Most people will talk about him sullying Iowa's reputation or chances in the Insight Bowl. Ferentz's coaching this season did more to affect the former than his top receiver. He has some major personal issues to sort out before thinking about getting back on the football field regardless of how the legal issues sort out.
Officers … reported finding "electronic media" showing Johnson-Koulianos in possession of cocaine and marijuana, complaints state.
Let's put the utter disregard for discretion aside at the moment. Johnson-Koulianos was taking so many different drugs that the court should order treatment as part of any sentence. In addition to weed and coke, he also admitted to taking various prescription drugs that he obtained from "friends" without a prescription. Maybe he had a BMOC complex. Perhaps he never saw anything wrong with what he was doing. Many will say he did it to himself and he deserves whatever punishment he gets. It is his fault but he obviously needs help. Does Iowa owe him anything for his contributions to the football program? It's about helping a young kid get his life together before he throws it away. Look what happened to Maurice Clarett after Ohio State kicked him to the curb. They got what they wanted out of him then tried to forget he ever existed. Forget prison. He's playing in the UFL with Jeff Garcia. Is that what Johnson-Koulianos wants for himself? Omaha?
Hopefully Ferentz and rest of the Hawkeye football program will support Johnson-Koulianos through this and he'll come out of this having learnt something before it's done. Hey hey hey! It's a bit more serious than an episode of Fat Albert and the Cosby Kids and the UFL but you get the point.